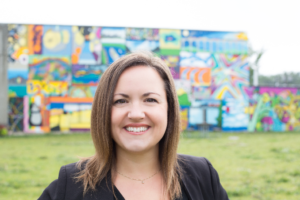 Biography
Carissa Halton is an award-winning writer of creative non-fiction. Her debut book, Little Yellow House: Finding Community in a Changing Neighbourhood, is a book of creative non-fiction essays and was a finalist for the 2019 Edmonton Book Prize. Her writing for magazines and newspapers has appeared in Today's Parent, Alberta Venture, Postmedia newspapers and many more.  As a presenter, she spent many summers as an historical interpreter which honed her story telling skills and helped to expand her techniques for keeping complex concepts interesting to children. As a speaker and workshop presenter she is at her happiest helping people find meaning and hope by expanding their skills to write their own stories.  When not writing, she has broad experience: as an inner-city non-profit managing director, a political advisor to government ministers and communications consultant. She runs her own company, Halton Strategic, providing strategic planning and communications services to a variety of sectors. She lives in Edmonton with her husband and three school-aged kids and is currently writing a novel.
carissa@carissahalton.com
www.carissahalton.com
Presentations
Pricing:
½ hour virtual: $125
1-hour virtual visit: $175
½ day (3-3.5 hr): $500
Is that a Fact?
Grade 4- 6  and 7-9: 40- 60 minutes
SUMMARY: Fiction and non-fiction are very different things… or are they? In this session, non-fiction writer, Carissa Halton, will discuss what makes non-fiction and fiction different and provide age appropriate examples. We will discuss why it's important we know the difference between fact and fiction. For older students we will discuss how they can fact check.
MAIN POINTS:
Two truths and a lie exercise –students will try to guess what is true and what is a lie on my shared screen.
Discuss what makes 'lies' different from fiction.
Discuss why is it important to understand the difference between facts and fiction.
Explore ways to know a "fact" is true.
For older students: Discuss the ethics of a non-fiction writer.
GOAL: To help students identify the difference between fiction and non-fiction. To give students tools to fact check their work and other stories they here.
Fun True Stories: The Fish Was How Big?
Grade 4- 12: 40- 60 minutes
SUMMARY: Stories don't always have to include dragons and magic to be fun. Non-fiction writer, Carissa Halton, will show how interesting non-fiction stories often have similar elements of fiction. We will discuss what those elements are. With older students we will look at what forms non-fiction stories take, using age appropriate examples.
MAIN POINTS:
First rule for any writer (storyteller): don't bore your reader (listener)!
But how do you not bore your readers with true facts?
I will share an age appropriate example of fascinating true stories that aren't exaggerated.
We will analyze this well-told true story and how it has many similarities with fictional story telling: What was the main conflict? Who was the hero? Was there a villain? What facts caught your attention and made you want to know more? How did it resolve?
Discuss key elements of every great TRUE story: Characters, setting, plot, conflict, resolution and FACT.
With older students: Review examples of different forms of non-fiction with older groups including creative non-fiction, essay, news reports, and opinion writing.
GOAL: Students will learn the essential elements of telling an interesting true story.
How to write non-fake news
Grade 4- 12: 40- 60 minutes
SUMMARY:  In this session, Carissa Halton, will explore what differentiates fake news from real news by sharing her experiences as a journalist and government communications person. Students will learn about the tools in a journalist's toolbox to help them write the truth.
MAIN POINTS:
Establish difference between news, fiction and fake news.
Share examples and discuss stories they have seen that are fake
For older students: Discuss how social media has helped expand fake news.
Share tools I use when writing journalist piece to ensure I've got it right. Share tools news syndicates use to get it right.
Disclose what students can do to get to the truth.
GOAL: Students will better understand what journalists do to ensure they are telling the truth and learn how they can ensure protect themselves from believing fake news.
Bibliography
Little Yellow House: Finding Community in a Changing Neighbourhood. Gutteridge Books September 2018
"A New Kind of Simakanis" in The Broadview Anthology of Expository Prose, 3e – Canadian Edition, ed.Written By Carissa Halton, Broadview Press 2017
"Lost Fires Still Burn' in the anthology In This Together: Fifteen Stories of Truth and Reconciliation. Brindle and Glass 2016
Awards
Alberta Magazine Award, Winner: Alberta Story for Different Kind of Simakanis 2016
National Magazine Award, Winner: Society Category; Nominated: Journalism Category for Different Kind of Simakanis 2016
Reviews
"This book is an excellent resource for communities wanting to create change. It can also be a starting point for discussion with students in professional programs—nursing, social work, public health—and academic disciplines, such as sociology and anthropology, to focus on identifying Who are the vulnerable? Who gets to decide that they're vulnerable? and What community-based solutions honour lifestyle choices? Little Yellow House shows readers there are ways of working and living together that really do respect diversity. I loved this book."