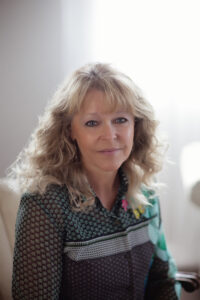 Biography
Born and raised in Calgary, Alberta, Georgia has loved drawing for as long as she can remember. Georgia has been hooked on chalk pastels since her mom gave her a set when she was in grade four. She graduated from the Alberta College of Art in 1982 where she studied Visual Communication. She first used her art for children by drawing pictures for her Sunday School class while telling Bible stories. She has been writing and illustrating for children ever since. She has illustrated twenty children's books. She has written six of the books that she illustrated. Georgia lives with her husband on a small farm in Central Alberta, north of Lacombe. Her grown children and granddaughter live nearby. She spends her time doing exactly what she loves to do, writing, illustrating, and painting. She illustrates in chalk pastel on sanded paper and paints in acrylic on canvas.
www.georgiagraham.com
Presentations
Please note that Georgia is on hiatus from touring for the 2022-23 school year.

Bibliography
Stories in the Clouds, Written By Joan Marie Galat, Illustrated By Georgia Graham Whitecap Books 2018When Wolves Howl, Written By Georgia Graham, Illustrated By Georgia Graham Red Deer Press 2018
Saving Thunder the Great, Written By Leanne Shirtliffe, Illustrated By Georgia Graham Boulder Publications 2016
Cub's Journey Home, Written By Georgia Graham, Illustrated By Georgia Graham Red Deer Press 2014
High Plains Book Award, winner for best children's book, 2017
R. Ross Annett Award for Children's Literature, winner, 2017
Nana's Summer Surprise, Written By Heather Hartt-Sussman, Tundra 2013
Here Comes Hortense, Written By Heather Hartt-Sussman, Illustrated By Georgia Graham Tundra Books 2012
Blue Spruce Award, nominated for Here Comes Hortense 2013
Where Wild Horses, Run Red Deer Press 2011
Alberta Literary Award, Shortlisted, 2013
Independent Publishers Award, silver medal winner, 2012
Langley Christian School Canadian Picture Book Award, winner, 2011
Nana's Getting Married, Written By Heather Hart-Sussman, Illustrated By Georgia Graham Tundra Books 2010
The Lime Green Secret, Written By Georgia Graham, Illustrated By Georgia Graham Tundra Books 2009
Alberta Literary Award, Shortlisted, 2010
Wanda's Freckles, Written By Barbara Azore, Illustrated By Georgia Graham Tundra Books 2009
Wanda and the Frogs, Written By Barbara Azore, Illustrated By Georgia Graham Tundra Books 2007
Wanda And The Wild Hair, Written By Barbara Azore, Illustrated By Georgia Graham Tundra Books 2005
A Team Like No Other, Written By Georgia Graham, Illustrated By Georgia Graham Red Deer Press 2004
Shining Willow Award, winner, 2007
Alberta Literary Award, Shortlisted, 2005
Saturday Appaloosa, Written By Thelma Sharp, Illustrated By Georgia Graham Red Deer Press 2001
The Strongest Man This Side of Cremona, (soft cover: The Day of the Tornado) Written By Georgia Graham, Illustrated By Georgia Graham Red Deer College 1998
Tiger's New Cowboy Boots, Written By Irene Morck, Illustrated By Georgia Graham Red Deer College 1996
Alberta Book Illustration Award, winner, 1996
Alberta Children's Title of the Year Award, winner, 1996
Canadian Children's Book Centre's Our Choice List, 1996
We Need a Moose, Written By Lynne Fairbridge, Illustrated By Georgia Graham Chariot Victor 1996
Bibi and the Bull, Written By Carol Vaage, Illustrated By Georgia Graham Red Deer Press 1995
Canadian Children's Book Centre's Our Choice List, 1995
The Most Beautiful Kite in the World, Written By Andrea Spalding, Illustrated By Georgia Graham Red Deer College 1988
Canadian Children's Book Centre's Our Choice List, 1998
The Comet's Tale Written, By Sue Ann Alderson, Illustrated By Georgia Graham Tree Frog Press 1982