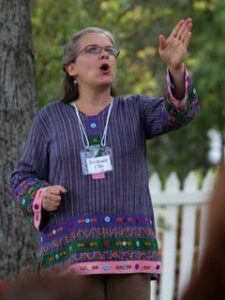 Biography
Bethany began telling stories many decades ago while working at a summer camp. Realizing that her young campers were not really engaged in the book she was reading aloud to them, she closed the book and began to tell and they all sat up and listened, and begged for more. Since then she has told stories at festivals, concerts, and Story Cafes, as well as in libraries and schools from South Korea to Cote d'Ivoire, from England to Nepal. Bethany brings her background as an actor, French teacher and world traveler to her performances. Since returning to Canada in 2004 Bethany has worked with Storytelling Alberta as a performer and mentor. She has also been busy with Artist-in-Residencies offering Storytelling workshops in both English and French. In 2008 Bethany toured Quebec as a participant in the Canadian Children's Book Centre Book Week and in 2011 was given a special recognition award for "Outstanding Contributions to Student Learning" for her work as a storyteller, playwright and theatre director with Caraway School in Edmonton.
Presentations
Virtual Fees:
30 minute sessions $125
45 minute sessions $140.00
60 minute sessions $175
Session lengths:
Grades K-4 Maximum time 30 minutes
Grades 5-9 Maximum time 45 minutes
Grades 10-12 Maximum time 60 minutes
Set up: Students need to be able to see my face and hands for the Storytelling presentations, and ideally I would like to see their faces as well. No special audio-visual needs other than on-line conferencing audio and video.
Maximum classroom logins: 2 classes
Languages: English and French
Bibliography
Undaunted Enchantments, a storytelling CD
Reviews
Whether she has chosen to tell a folktale, interpretive version of a well-known tale, a personal or historic story she is hilariously funny, deeply intriguing or emotionally touching; she commands attention. The range and control she has with her voice either speaking or singing is delightful. Bethany is a vibrant teller that connects effortlessly with her audiences.
"If you don't tell the 'Golden Arm' story again this year, I'm just going stay home from school on Hallowe'en."
The Grade 5 and 6s were captivated with the way she was able to tell stories.  She linked it to why and how she started doing this and it all tied in together.  That was a great piece I would not leave out next time! The value of storytelling is so important for everyone in future careers/families
Bethany was terrific! The kids were so engaged. I also enjoyed how she incorporated multi-disciplinary components like skip counting (Math), telling creation stories (Social) and different types of animals native to Alberta (Science).
The presenter was amazing.  Cannot believe she could tell a story for 20 minutes and keep the junior/senior high students engaged!