We acknowledge the support of
the Canada Council for the Arts.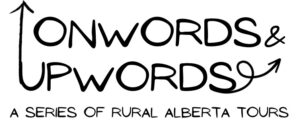 Onwords & Upwords brings literary artists to rural schools across Alberta. Running from April 1 to December 31, 2023, Onwords & Upwords will be sending six artists, selected with the help of hosting schools, to each spend a week in different pockets of rural Alberta, visiting hundreds of students at over two dozen schools!