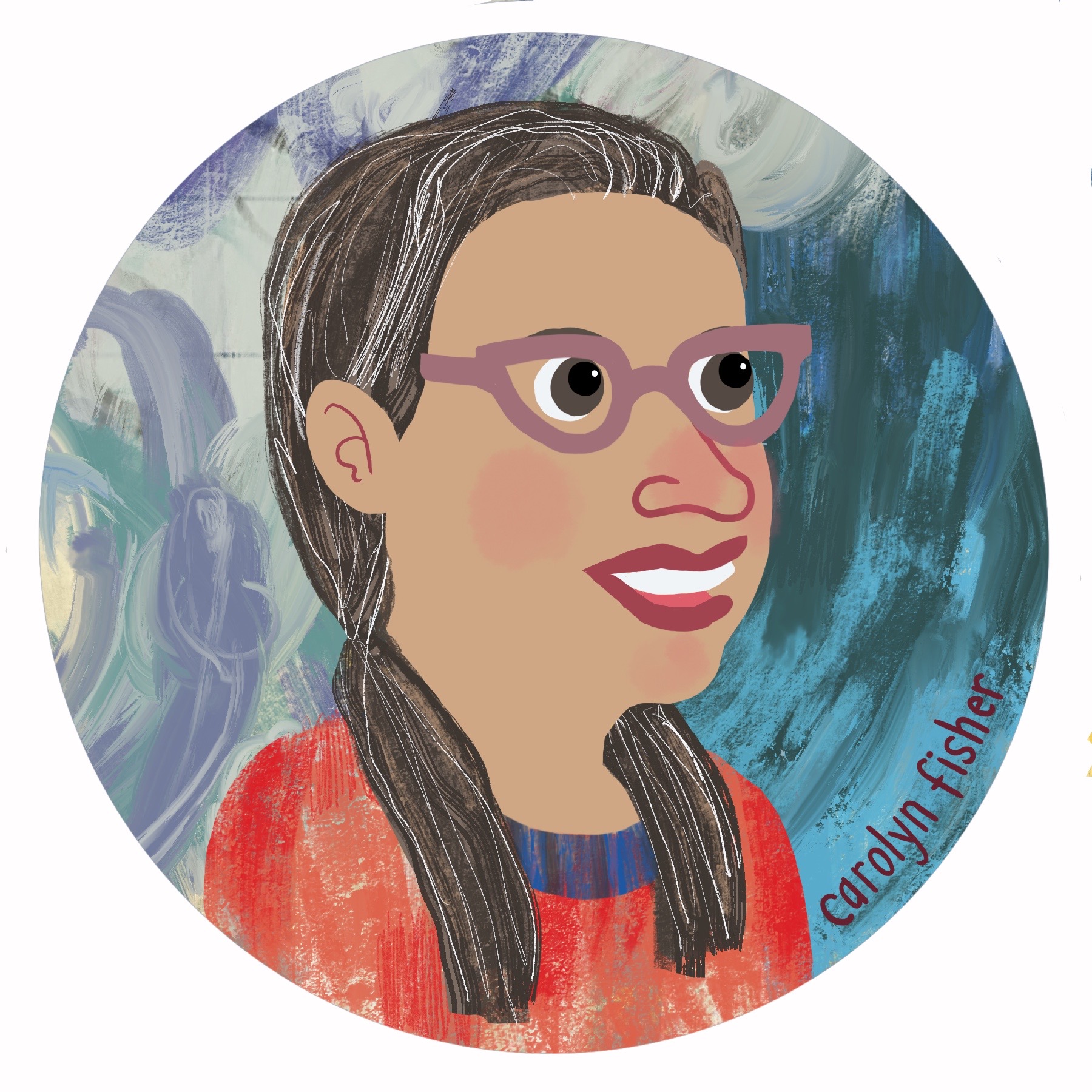 Biography
Award-winning artist and author Carolyn Fisher has been drawing pictures and writing stories for her whole life. She wrote three of the eight books she has illustrated. Her book Two Old Potatoes and Me was featured on the PBS educational TV show Reading Rainbow. Paul O. Zelinsky, writing for The New York Times Book Review, called her book The Snow Show "…visually arresting…one of the most gloriously exuberant, inventive displays of computer-created art that I have ever seen in a picture book." In addition to teaching at art college for seven years, Carolyn has talked to thousands of kids in libraries and schools about writing and art. She draws and writes in her studio in Capitol Hill, Calgary.
See videos of author-illustrator Carolyn Fisher at work on her YouTube channel:
Presentations
Carolyn is offering in-person or online presentations during the 2023-2024 school year. Rates are the same for in-person and online visits.
Visits can be as many presentations of 30 to 60 minutes as you can fit into the time slot.
Total visit time can be split between different classes (minimum session time 30 minutes).
Sessions of 45 minutes or more can include a free live drawing of a student. I will gift the portrait of the student to the school (by mail) to keep after our session. If an on-the-spot portrait of a student doesn't appeal, I'll do a drawing demo of another subject.
Maximum audience size of 80 for presentations and 30 for workshops.
Day Rates are the same for both online and in-person visits.
1 hour $215 + GST
Half day $425 +GST (as many sessions as you can fit into a half day, max 2.5 hours)
Full day $700 + GST (as many sessions as you can fit into a full day, max 4.5 hours)
Multi-day Online Rates
Book three 50 minute visits at the same school on different days for $425 + GST.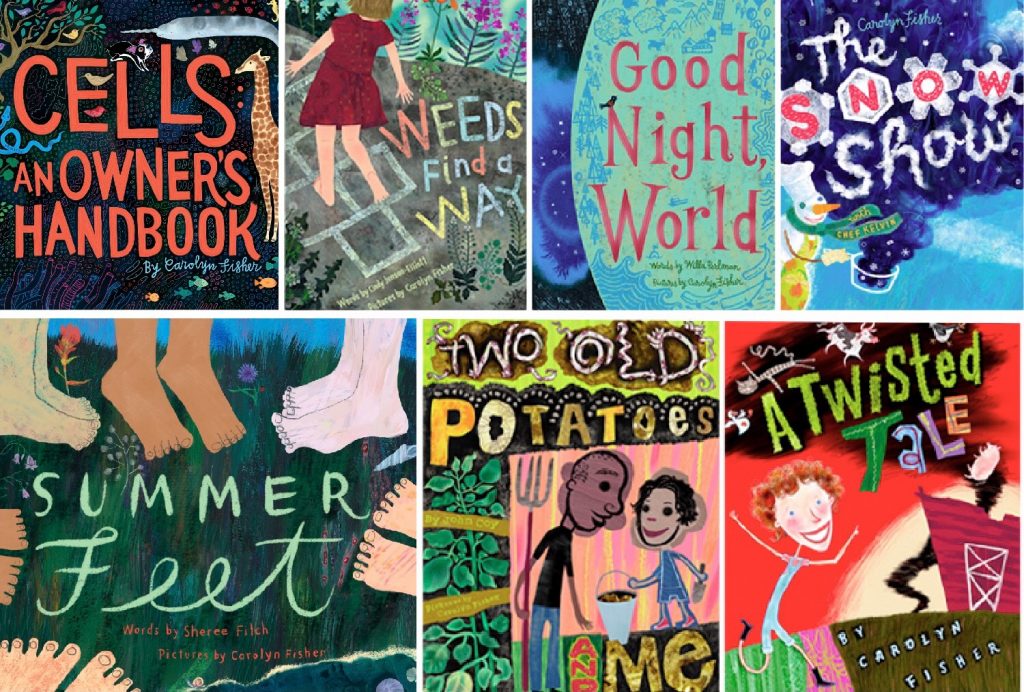 From Storyboard to Storybook: how a children's book is made
Carolyn shows slides of the illustration and writing processes from storyboard to storybook. Ideas look messy when they spill from Carolyn's brain and usually need to be revised many times before they shine. Carolyn shows students how she collects thoughts and refines drawings and paintings in her sketchbook. Carolyn winds things up by showing kids some magic: how to draw a portrait WITHOUT using an eraser. She gets a student from the audience to be the model, and leaves the portrait with the school when she's done.
The Snow Show
Carolyn's editor came to visit from California during a raging Alberta snowstorm. The temperature was –35C. The doors on the editor's airplane luggage compartment froze shut.
"Hey," Carolyn said. "Maybe I should write and illustrate a book about hot and cold!"
And so she did. Read The Snow Show to find out how Carolyn made a picture book that explains a science concept.
From Ugh to Wow: using drafts to fix your stories and drawings
Sometimes ideas look ugly and messy and slimy when you first write them on paper. Carolyn works with students to show it's ok to try ideas 999,999 times just to see what they look like. Carolyn gives composition tricks and sketching techniques to help students make stronger pictures and stories.
Using Sketchbooks to Grow Ideas
Carolyn collects ideas in sketchbooks – scribbles, paintings and collages of people, places, things, fragments, and notions. Then she mines her sketchbook for story starters and inspiration when she's making books or pictures.
Drawing Stories: from Picture Books to Graphic Novels
Storyboards are used to design picture books, comic strips, animations, video games, tv  and movies. Carolyn shows how she uses storyboards to grow stories, pictures and books. Students will brainstorm ideas for their own comic strip storyboards.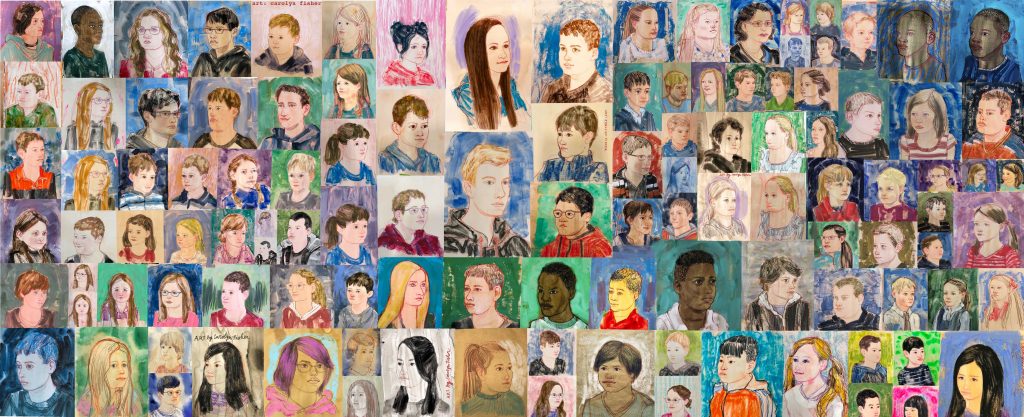 Bibliography
Summer Feet, written by Sheree Fitch, illustrated by Carolyn Fisher. Nimbus Press, 2020.
Cells: An Owner's Handbook, written and illustrated by Carolyn Fisher. Beach Lane Books/Simon and Schuster, 2020.
Weeds Find a Way, written by Cindy Jenson-Elliott, illustrated by Carolyn Fisher. Beach Lane Books/Simon and Schuster, 2014. Awards: ALA, Bank Street College of Education, National Council of Teachers of English, California Reading Association Eureka Honor Award.
Good Night, World, written by Willa Perlman, illustrated by Carolyn Fisher. Beach Lane Books/Simon and Schuster, 2011.
The Snow Show, written and illustrated by Carolyn Fisher. Harcourt, 2008.
Two Old Potatoes and Me, written by John Coy, illustrated by Carolyn Fisher. Alfred A. Knopf, 2003.
A Twisted Tale, written and illustrated by Carolyn Fisher. Alfred A. Knopf, 2002.
The Best Friends' Handbook, written by Erica Orloff and Alexa Milo, illustrated by Carolyn Fisher. Walker and Company, 2002.
Fifty-Five Grandmas and a Llama, written by Lynn Manuel, illustrated by Carolyn Fisher. Gibbs Smith, 1997.
Carolyn Fisher's illustrations have earned awards from the 3×3 Competition (New York), American Illustration, Applied Arts, Society of Illustrators Los Angeles, Society of Illustrators New York, The Canadian Children's Book Centre, and other competitions.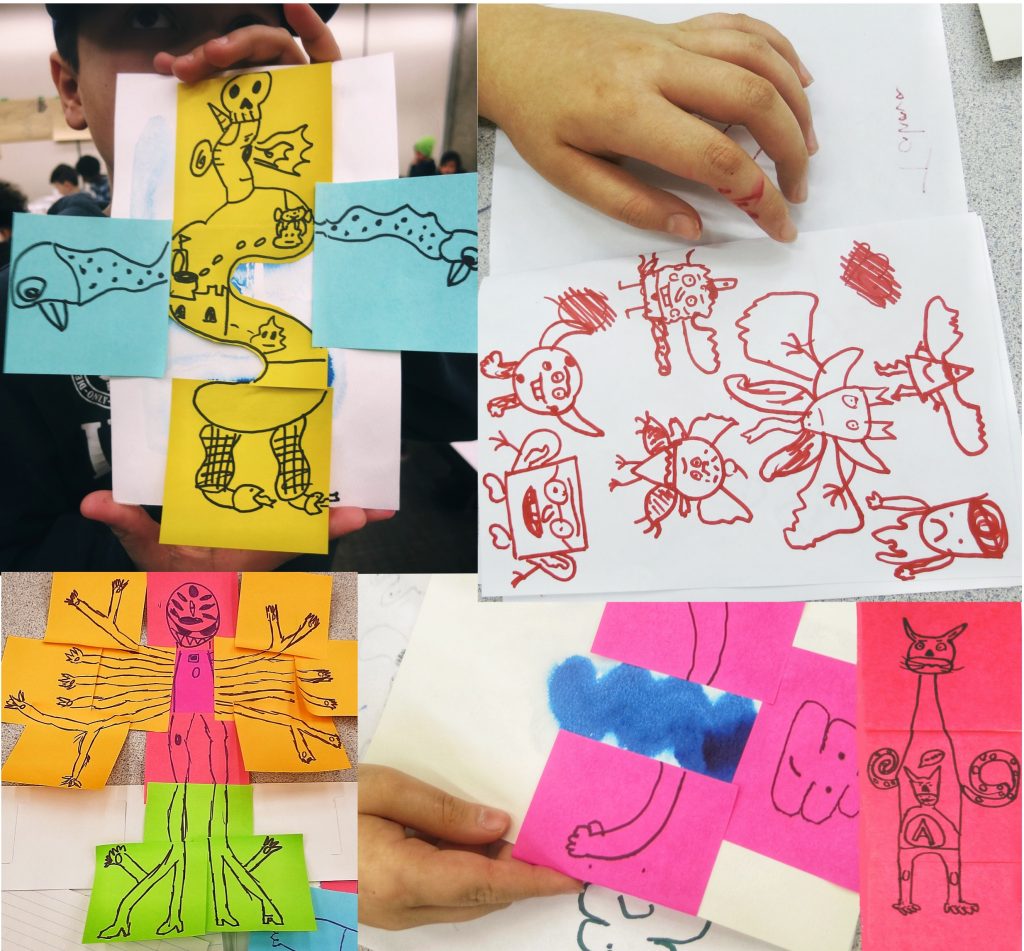 Reviews
"We had the very great privilege of having Carolyn Fisher present to our Kindergarten to Grade 5 students. Carolyn did an excellent job of engaging every child in understanding the processes involved in writing and illustrating books. During her presentation Carolyn spoke eloquently about the challenges of creating excellent work and the need to try and try again. She shared her process of creating multiple drafts and listening to feedback, which was very motivating for our students. Our staff valued this message as they share these ideas with children on a daily basis and it is always helpful to have other members of our community and "real" authors/illustrators who live this experience in their chosen professions.

One highlight of the presentations was when Carolyn drew and painted a portrait of a students in the audience. Her ability to describe her thinking and to talk about the adjustments she was making as she worked was a very powerful. Students were excited to ask her questions and she answered each thoughtfully and respectfully. Carolyn Fisher has motivated our students and we would recommend her as a wonderful guest for any school."
'Carolyn Fisher was a treat to have in our school! She is a very talented writer/illustrator who is so easy to talk with. Her down-to-earth attitude makes her instantly relatable and the stories of her writing journey contain open honesty veiled with lighthearted hilarity! I would highly recommend having her visit schools as an author/illustrator that students and teachers can look up to.'
"I think the most valuable aspect of the program was when Carolyn shared the final product of her books and when she explained to the students that sometimes she had to illustrate the same image more than 30 times before the editor approved of it. The message of re-working a piece of writing several times before getting the final product just right."
"I loved that she was both an author and an illustrator and was able to explain the processes for both. I loved how she drew a student on the spot. I heard my students say, 'This was so epic!'."
"Carolyn Fisher who presented to our grades 4-6 students. Though her sessions were held in our large gym, Carolyn was able to engage the students such that each felt she was talking directly to them. She was a consummate professional and focused on making her visit a smooth one. I feel she went above and beyond with her on-the-spot portraits of students which we put on display in the library, along with several of her titles, and then passed the portraits on to the students themselves. We had some very happy parents."
"I liked how she could almost draw anything. It took a long time to get someone to write your story idea. She never gave up."
"When she does her rough drafts she does not draw the draft only once. She does many drafts to keep improving – I learned instead of doing it perfect the first time I can try again and improve and that is how I can practice."
"I liked that she made at least 5 different books and worked on them at the same time. She even went back to rewrite a story over and over again to make it better."
"She taught me that it is important to do rough draft. She would do an outline very lightly and then go over it to improve."
"Carolyn shared that if you make a mistake it is ok. When she draws (something like a face) she goes over and over it to make it better."
"She knows how to draw people good. Her stories were funny!"