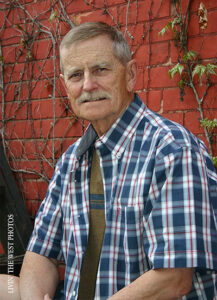 Biography
David A. Poulsen has been a broadcaster, teacher, football coach, rodeo cowboy, stage and film actor and–most of all–writer. His writing career began in earnest when his story The Welcomin' won the 1984 Alberta Culture Short Story Competition. Now the author of more than 25 books, many for middle readers and young adults, David has completed his Masters degree in Creative Writing at UBC and served as the Writer in Residence at the Saskatoon Public Library in 2012/13. He divides his time between his small ranch in the Alberta foothills southwest of Calgary and a second home in Maricopa, Arizona. In 2011, David's young adult novel Numbers was selected for the Sakura Medal (awarded by English speaking high school students in Japan to their favourite novel of the year). As a result, David toured International Schools in Japan and South Korea in the fall of 2011. Numbers has since been added to the new English curriculum for Grade 10 in Saskatchewan. His newest novel for young adults, And Then the Sky Exploded was released in October of 2016 and was launched in Ponteix, Saskatchewan as the whole community (of just 550 people) made the launch their own with over 130 people on hand for the evening event which was a community supper and reading/signing. David spends 60 to 80 days a year in classrooms across Canada (and beyond) as a visiting author/presenter. "I never tire of sharing my love for reading and writing with kids (and adults) of all ages.
David is available for in-person sessions for 2023-24 and is happy to travel, though he may require a minimum number of days books for longer journeys. He is open to online sessions upon request.
Presentations
David is an experienced presenter for students from kindergarten to grade 12 but he is a particularly good fit for grades 4 and up.
David's one-hour presentations with students are high energy, informative, infused with his passion for reading and writing and, most of all, they're fun. He begins by sharing his journey to becoming a writer; it is sometimes hilarious ("The world's worst rejection letter" and "The scariest moment of my life" are two examples), sometimes poignant (his first successful story was inspired by the tragedy of the Battle of Dieppe), sometimes inspiring ("if I can get my picture on the back cover of a book, so can you") and always entertaining. Next, David's reading will focus on a recent book written for the age group to whom he is presenting and as a former actor, he admits to 'performing' his readings. And finally, there is David's favourite part of the presentation–the Q and A as audience members pepper him with questions that "never fail to amaze and delight." It is an hour that student and adult audiences alike have called everything from "inspirational" to "totally a blast."
The Workshop–David's writing workshops are designed to give students useful, easy-to-understand strategies they can use in creating their own stories. The 1 and 1/2 to 2 hour workshop focuses on helping young writers create real, believable stories that include all of the elements of good story writing including (and focusing particularly on) character and setting. The workshop content is David's response to seeing too many students' stories that focus only on plot, as kids–surrounded by superhero films and video games try to create an action movie on paper. The best part of the workshop is that the students not only have fun but take hold of the hints and tips David gives them and "head off in directions I hadn't even thought of."
David can work with virtually any size of group in almost any setting for his author talks, but requests that all audience members be able to see and hear him. It is a good idea to group students as much as possible according to age/grade for individual sessions. Smaller groups are important for writing workshops; 20 students is optimum; 25 is the maximum.
PRESENTATION REQUIREMENTS

For in-person visits, David requests a table, stool, drinking water, and (if possible) coffee. David's half day is two hours of session time for $350. A full day is 3.5-4 hours of session time for $650. The session lengths can be configured to bet meet the needs of the school.
David also offers his sessions online at the same rates for his in-person sessions, but he prefers in-person whenever possible.
Bibliography
1984 Short Story, The Welcomin' winner of the AB Culture Short Story Competition
1987 Middle Reader novel The Cowboy Kid. Book 1 of Rodeo Trilogy (Plains Publishing, Edmonton)
1989 Middle Reader novel Ride for the Crown, Book 2 of Rodeo Trilogy. (Plains, Edmonton).
1990 Short story collection Dream. (Plains, Edmonton).
1995 Sports Bio Robokicker, co-written with Dave Ridgway. (Johnson/Gorman Publishing, Red Deer)
1995 Middle Reader novel Ride the High Country, third book in Rodeo Trilogy.
(Red Hawk Books, High River, Alberta. (Coincides with second printings of first two books in trilogy).
1996 Young Adult Novel Billy and the Bearman. (Napoleon Publishing, Toronto)
Selected by the Canadian Children's' Book Centre for a Choice Award.
Shortlisted for Blue Heron Book Award and Writers Guild of Alberta Children's Book of the Year.
2004 Young Adult novel, Last Sam's Cage. (Key Porter Books, Toronto). Nominated for Snow Willow (Saskatchewan), MYRCA (Manitoba) Young Reader's Choice Awards and R. Ross Annette (Alberta) Award. Selected by the Canadian Children's' Book Centre for a Choice Award
2006 The Vampire's Visit and The Hunk Machine–first two books of middle reader series The Salt and Pepper Chronicles. Key Porter Books (Toronto).
2007 No Time Like the Past and The Book of Vampire (books 3 and 4 of The Salt and Pepper Chronicles) Key Porter Books (Toronto). The Vampire's Visit was a finalist for the Silver Birch Reader's Choice Award in Ontario. No Time Like the Past was a finalist for The Golden Eagle Children's Choice Book Award in southern Alberta.
Key Porter Books publishes the first two books of the reluctant reader series The Lawrence High School Yearbook—Wild Thing and Blind Date.
2008 Book 5 of The Salt and Pepper Chronicles—The Prisoners and the Paintings. (Key Porter, Toronto). This book won the 2010 Golden Eagle Children's Choice Book Award.
Books 3 and 4 of The Lawrence High School Yearbook Series—Jeremy's Song and Cowboy Cool.
Key Porter, Toronto)
2009 Book 6 of The Salt and Pepper Chronicles—Shivers and Shakes. (Key Porter, Toronto).
2010 Numbers—Young Adult novel (Key Porter Books, Toronto). Winner of the 2011 Sakura Medal, Japan.
2011 I Wish I Could Be Like Tommy Blake (picture book) Donahue House Publishing, Edmonton. (In 2012 this book was distributed to every Grade 1 student in Alberta by the Department of Education)
2013 Old Man. (YA/Adult crossover) Dundurn Books, Toronto.
2014 Serpents Rising, (Adult crime fiction–Book 1 of Cullen and Cobb Mysteries) Dundurn Books, Toronto
2015 Numbers – new edition – Dundurn Books – Toronto
2016 And Then the Sky Exploded—Dundurn Books—Toronto. Finalist for High Plains Book Award, nominated for OLA Forest of Reading Red Maple Award.
2016 Dead Air – (Book 2 of Cullen and Cobb Mysteries) Dundurn Books – Toronto
2017 Last Song Sung – (Book 3 of Cullen and Cobb Mysteries) Dundurn Books – Toronto
2018 None So Deadly – (Book 4 of the Cullen and Cobb Mysteries) Dundurn Books – Toronto
2019 The Man Called Teacher–BWL Publishing, – Calgary
Forthcoming in Fall 2023: The Unlikely Hero: The Story of Wolf 8. This is the first book in The Chronicles of the Yellowstone Wolves and targets grades 4 to 7.
Reviews
David Poulsen was the keynote speaker at an annual conference that I plan.  He was fantastic!! He is professional and positive, and his presentation was humorous, upbeat, and inspiring …a joy to listen to. Some of the attendees comments included, "David Poulsen is great", "Totally enjoyed the keynote, David Poulsen", and "Loved the author presentation!!" I completely recommend him as a speaker and a great human being.
Mr. Poulsen gave a very animated talk to students revealing both the work and the ultimate joy of being a writer. He kept the students engaged from start to finish and shared with students a very important reality: that life is enriched by reading. He's welcome to come back anytime.
David Poulsen is a natural born speaker when it comes to interacting with kids and getting them hooked on reading and writing. He frames his life's journey with a down-to-earth comedic presentation style that focuses on the writing process and what being an author entails. The students were inspired by his message, motivated to read more and sad to see him leave. He leaves an indelible mark on his audiences.