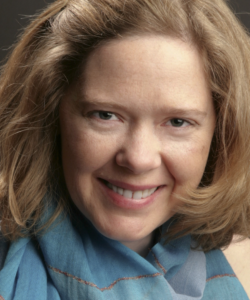 Biography
My life's work connecting young people and stories began when I was in elementary school.  Sitting on the floor at the foot of a guest storyteller, I was enchanted by her words, her rhythms, and her images.  That rich, communal experience sparked a lifelong passion for world folk and fairy tales and a desire to share them with children.  These stories effectively foster a sense of history, culture, and empathy, while simultaneously supporting literacy and writing skills.  For the youngest listeners, the participative elements of storytelling support additional developmental areas, such as social skills and motor skills.
My experience with oral storytelling is diverse.   Since 1992, I have been telling stories in schools, libraries, early childhood centres, and community organizations. In 2003, I earned a Master of Arts in Children's Literature, focusing on oral traditions.  I have honed a rich repertoire of folk and fairy tales, myths, and legends for children of all ages, but especially those in Kindergarten through grade three.
Additionally, I work to promote, advocate, and teach children's literature.  For three years, I served as the Alberta Regional Officer for the Canadian Children's Book Centre.  I also toured for this organization as part of Canadian Children's Book Week. For ten years, I taught various courses about Children's Literature and Storytelling at University of British Columbia, Mount Royal University and Southern Alberta Institute of Technology.  In 2019, I founded The Gingerbread Way, which focuses on teaching early childhood professionals to nurture children's potential with rhymes, songs, and stories.
Visit www.gbway.ca for more information.
Ginger is currently a non-touring member of YABS. Please inquire if you'd like to contact Ginger about private bookings.

Bibliography
Recordings:
"The Rollaway Pancake." YABS TV, 2020 (see youtube video below)
"Snowgirl and the Chinook."  TALES on the Wind, The Alberta League Encouraging Storytelling 2009.  CD.
"The Twa' Sisters."  How Music Came to the World and Other Stories, Vancouver Society of Storytelling, 2000. CD.
Articles:
"Creativity, 'Oracy' and Literacy: The Storyteller's Magic," edited by Gillian O'Reilly, Canadian Children's Book News, vol. 32, no.2, 2009, pp 10-15. Interview.
"More Than Words: Using Nursery Rhymes and Songs to Support Domains of Child Development."  Journal of Childhood Studies , vol. 42, no. 2,  2017
"Robin McKinley." Continuum Encyclopedia of Young Adult Literature, edited by Bernice Cullinan, Continuum, 2005.
"The Transformations of 'Tam Lin': An Analysis of Folktale Picture Books." The Looking Glass: New Perspectives on Children's Literature, vol. 8, no. 3, 2 Sep 2004, www.lib.latrobe.edu.au/ojs/index.php/tlg/article/view/157/156n
Reviews
The students in my Grade 3 class are always excited to see Ginger. Some of her stories have become favorites that must be repeated whenever she visits! The combination of story and audience participation always leaves the students wanting more.  In the recent past, storytelling as an art diminished in favor of print and media, but the connections that can be made between storyteller, the development of the imagination and the audience make one wish for its resurgence. Ginger is filling that niche!
Ginger's work in our class deepened our understanding and appreciation of cultural diversity, as she shared tales from across the globe. Students were engaged and enthusiastic during her visits and she was easy to collaborate with when planning for experiences that made connections across the curriculum. Ginger's joy and passion for the art of storytelling is evident when working with students, and her influence inspired meaningful work even after she left our class.
I have been working with Ginger Mullen throughout the 2015-2016 school year with great success.  Ginger has offered her time, experience, and valuable oral storytelling resources to my grade 3/4 classroom at Beddington Heights school. She has a wide variety of stories each with their own lesson that are effectively presented to the audience and keep their attention.  From her work, my class has developed many lessons, from how to and why we read with enthusiasm, expression, and emotion to exploring the deeper themes and morals expressed in the tales to even writing our own.  She is a welcomed asset to education that provides a unique learning experience for all involved.
Ginger Mullen gifted our class with her incredible oral story ability.  She had the Kindergarten students hanging onto her every word. She was the first person to introduce this oral model of teaching and learning to our class.  It required the learners to listen, visualize and imagine. Ginger was also training other storytellers.  They practiced their oral story telling skill on the Kindergarten students too!  Ginger included transitional movement games for the children which they requested for me to learn and do with them after Ginger left our classroom.  We enjoyed the natural and engaging language experiences Ginger offered to all students.  As a teacher it was inspirational to watch and try to emulate this special ability!