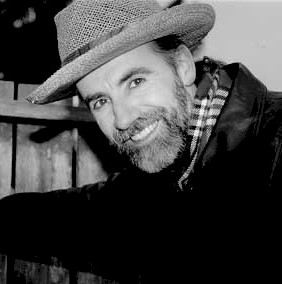 Biography
I have retired from my satisfying job as the Work Study Coordinator for special ed programs at the awesome St. Joseph High School. Previous to that, I was at St. Mark Junior High, working again in special ed, along with running the school's Lego Robotics team.
My wife and I live in a little house in little Italy in Edmonton. I play trombone in a community band, graft branches onto our fruit trees, sip espresso in the local cafe, regard to-do lists with suspicion, and generally have an enjoyable time participating in the life of this community.
Under a Living Sky got its start in the early 90s, when my father-in-law told me a story about a homemade doll and a family in 1937 depression era Saskatchewan. Maybe because of growing up on a farm myself, I was intrigued, and devoted years to it. I have written other children's stories as well, and also adult novels, as yet unpublished. When it came out, Under a Living Sky was given a 5-star rating by the London Ontario Library System. It also was a winner in the Family Friendly Book Awards. I am often surprised during workshops at how many boys have read this book.
My mother says I learned to walk when she shoved a pencil into my hand. I could see the pencil out there in front of me and kept following it around the room, and I suppose I've been following the pencil ever since. I have certainly been a book addict all my life.
I am presently at work on a sequel to Under a Living Sky. I hope to share it with you someday!
Joseph is offering both in-person and online sessions for 2023-24 and he is open to travel. He presents to grades 4 through 9.
In-person Session Fees
Half day: $250 for two 60-minute sessions
Full day: $450 for four 60-minute sessions
Maximum audience size is 30 for workshops and 100 for presentations. If available, a whiteboard and markers are appreciated.
Virtual Session Fees
45 minute sessions: $100 for a single session, 2 for $175, 3 for $250, 4 for $325
60 minute sessions: $125 for a single session, 2 for $225, 3 for $325, 4 for $425
Maximum 4 sessions on the same day, with a break after two sessions for voice recovery.
Joseph can work with the school's preferred meeting software (MS Teams, Skype, Zoom, Google Meet), but will need a short test session with the host to make sure everything is working on both ends. Maximum 4 classroom logins per session.
Presentation Information
FOR READINGS: I will read from Under a Living Sky for about 10-15 minutes (about 1 chapter), then read from the mysterious sequel (for now, even the title must remain a mystery!), and then take questions from students and staff. If classes have read my book and browsed my website, the conversation is definitely livelier. Children appreciate this preparation which inevitably leads to a deeply facilitated discussion of all aspects of farm life on the prairies in the Great Depression. This is a key concern if the presentation is to fit into the curriculum: Alberta Ed, Grade 5 Social, units 5.2.9, 5.3.4.
FOR WORKSHOPS: I have a number of presentations for various types of student groups. Teachers may check out my website (www.josephsimons.ca; look for the "school visits" page) and see what may be suitable for their own situations. Most often we generate ideas, write a story from one perspective, and then turn it around to view it from another. I've had the satisfaction of seeing not a few teachers astounded by what even their reluctant learners will produce. Even grade fours and special education classes do well at this. The all important key to the kids giving it their best shot is for the adults to create a setting that is very fun and accepting: the kid can do no wrong; no idea is too small, no topic taboo.
Full Day Rate: $450
Half Day Rate: $250
Maximum Audience Size: 100
Number of Presentations per Day: 4
Suitable audience: Grades:  4, 5, 6, 7, 8, 9.
Subjects: Language Arts, Social Studies
Bibliography
"Rapture, Community and Individualist Hope," essay in Leaving Fundamentalism: Personal Stories, Wilfred Laurier Press, 2009.
Award: Foreword Magazine's Book of the Year, 2008, Short-listed.
Award: Eric Hoffer Award for Short Prose and Independent Books, 2009, Commended.
Under a Living Sky, Orca Book Publishers, 2005.
Award: Family Friendly Book Award, 2006. ("Winners promote reading as a tool for family bonding, relaxation and individual, mental and spiritual development.")
"Frozen Pedals," Vueweekly, 2005
Book Review of "The Case Of Lena S," By David Bergen, Journal Of Mennonite Studies, 21 (2003): 235-37, 2003
"Hard-tail," Kitchener/Waterloo Record, July 3, 1993.
"Primary Passage," Changing Image (a southern Ontario Library Service publication), 1992.
Award: Dorothy Shoemaker Literature Award, 1992. Ontario Libraries and Ministry of Culture contest.
"The Day I Fooled Jill's Class," Canadian Writers Journal, 1992.
Reviews
Joe came up with a great idea to help the students understand exactly how the Great Depression affected families. He called it "The Web of Human Life." It was a very creative and thought provoking exercise. Following the presentation, some of the students stated that they sure wouldn't like it if they had to live through a depression. I thought this was really great because when they came in to the presentation, I am sure many of them didn't even know what a depression was. They hear people talk about 'depression' but more as a state of mind than a societal problem. I think the students left the presentation with a new understanding of the word. Thanks, Joe.
Joe's presentation is low-key, full of gentle wit, and many anecdotes that inform, amuse and keep students focused. I listened to a session for junior high age, and even though the audience for "Under a Living Sky" is generally younger than these students were, they were interested and attentive. And I thought the book was wonderful – great characterization of the relationship between sisters, and of parents pressured by economic and climatic situations beyond their control. If what doesn't kill you makes you strong, then these are people who don't yet know how strong they actually are.
From a workshop for Grade 8 students who submitted portfolios to Margaret T. Stevenson Talented Young Writer Award competition, EPSB, 2011: "The activity you selected involved the students in a discussion in pairs, a good choice since the students were from different schools and hadn't met before. Students could draw on their knowledge of the lives of grandparents / great-grandparents, their memories, and also their own creativity as they moved from discussion into their own writing. As students read aloud from what they had written, your comments were perceptive and succinct. The focus was on the strengths the students had demonstrated and how they could improve their writing by building on their strengths. Certainly a rewarding morning for all."
From Peace Library System Author Tour, October 24-27, 2011″ "Rose-Marie and I both agree that you did an excellent job of the author tour; you held up well on a long four-day tour to 592 students! Your presentation style was very engaging and drew the children's interaction. It seemed particularly effective when you sat down at their level and they sat near you. The children's responses to your questions and their insights into what you read demonstrated how keenly they were listening, and showed their interest in both your published novel, Under a Living Sky, and your manuscript Two Skies, One Sun. You paced the presentations well, with just the right amount of reading and then question time, and then introduced the manuscript of the novel you are working on now. I believe the audiences also really enjoyed the progression of your readings from published book, to manuscript, to ideas for the third and final novel. Your humour and calm delivery style kept the participants attentive and engaged."
From Alberta Culture Days presentation, September 28, 2018:

"Joseph's presentation, entitled 'The Web of Human Life,' was thoroughly engaging and informative.  Through an interactive demonstration with  the students, and in his relaxed and  engaging manner, Joseph was able to share—through the use of his book 'Under a Living Sky'—a fundamental importance in society: the importance of every person and how we play a valuable role not only individually but collectively for the survival and progress of our communities. I feel the children took away from his presentation a recognition and realization that we have a responsibility to strive, with the talents and gifts we have been given, to do our part, and truly be the change we need for good in our world.  Joseph brilliantly inspired our students and left them wanting more. Thank you Joseph, we are really looking forward to the sequel!"