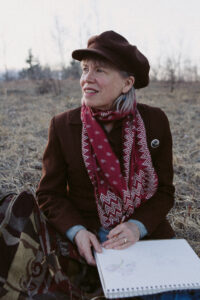 Biography
For more than thirty years, Karen Gummo has performed far and wide as a creative storyteller, probing her Scandinavian heritage, seeking to learn and decipher world wisdom, and undertaking many school residencies. In these residencies, Karen has encouraged students and teachers to discover the power of their own voice as storytellers and visual artists by modelling her own skills, through teaching games, and by offering artistic explorations.
In addition to her work in schools, she has performed at a variety of venues – from CBC Radio to bookstores, pubs, cafes, seniors' lodges, churches, hospice, historic sites, libraries and for conferences. With the Canadian Children's Book Centre annual tour, Karen visited Newfoundland in 2004 and southern Ontario in 2017. In 2015, she travelled to Iceland where she was honoured to present both traditional and family sagas. She is getting to know intimately her home province of Alberta through the Wordpower and Taleblazers programs organized by YABS.
In 2017, Karen launched a picture book called Ladybird Fly, a wisdom tale combining family adventure with magic that she wrote and illustrated. Other stories by Karen have been published in anthologies and on CDs.
Karen holds Bachelor of Fine Arts and Bachelor of Education degrees from the University of Calgary. She is a founding member and former President of TALES (The Alberta League Encouraging Storytelling) and has served as the western representative of the national Storytellers of Canada/Conteurs du Canada organization.
www.karengummo.com
Karen is available for in-person Taleblazers bookings during the first week of October 2023.
Half day fee: $300.00 (two sessions of 45-60 minutes each)
Full day fee: $550.00 (four sessions of 45-60 minutes each)
Maximum audience size for presentations:  K-2: 50 students. Gr 3-12: 75 students
Maximum audience size for workshops: 24 students
Set up needs: Table, Stool or Comfy Chair, easel, lukewarm water in a glass.
Session Descriptions:
Presentations:
Canadian History: Who am I and where do I come from in this great land?  The process of personal storytelling offers us a chance to discover who we are, where we come from and how we are connected.
I offer sessions that include family and historical stories linking to Alberta and Canadian History. My specialties are folktales and historical tales of the voyageurs, of cultural leaders Isabella Hardisty(Metis woman) and James Lougheed,  J.J.McHugh (early surveyor and worker at supply farms in the Northwest Territories after the signing of Treaty 7 in 1877), Irene Parlby (politician and social reformer) and her peers the Famous Five, Viking explorations and mythology, family stories of Scandinavian immigrants to Canada (and eventually to Alberta) in the late 1870's to the 1920's.
Folklore: The folklore, mythology and wisdom tales of northern European first peoples and of my ancestors have much to teach us.
Creative Storytelling: I present my own created tales and some that I have illustrated.  I am in the process of developing more of these into picture books.
Workshops:
On the Spot Stories: I will teach strategies for inventing story in the moment as a group or as an individual
Mapping your Stories: is an important step toward shaping and developing story ideas.  Students should have journals at the ready for this workshop about drawing out the creative spirit.
Karen's sessions are in English and bits of French with poetry and verse in many other languages including Icelandic, Danish, Punjabi, Hindi, Spanish and Czech.
Check out the following YouTube links:
Ladybird Fly: https://youtu.be/29DCTE_wtss
String Magic #1: https://www.youtube.com/watch?v=drgklz3xiYw
String Magic #2: https:/www.youtube.com/watch?v=VhEkoym0MZI
Bibliography
BOOKS
Lady Bird Fly! 
Picture Book Written & Illustrated by Karen Gummo 
Loft 112, Calgary AB, 2017.
A lost ring sends a girl on an adventure.
ANTHOLOGIES
In the Footsteps of Giants Vol. 2 
Charlie Yuen; Senator Patrick Burns Right Hand Man!  Historical tale Written by Karen Gummo, Illustrated by Photographs – Friesens Corporation History Book Division, Altona MB, 2016.
Nose Hill – The Hill That is Shaped Like a Nose! 
Story and illustrations for anthology, Golden Threads, published by the University of Calgary Women's Club, 2010.
This tale pays tribute to the arrival of my great grandparents from Iceland to Calgary in 1889.
Where is the Gold? 
From the Anthology, Under the Wide Blue Sky, Red Deer Press, 2005.
This is a tale of Magpies!
Dr. E.W. Coffin School 
Tales of Community, 2000.
CD ANTHOLOGIES
How the Huldufolk Came to Be – 2000
Cormorant and Eider Duck – 2009
Neighbours to the Rescue! – 2009
Reviews
"Karen's strength was in reading her audience and varying her tone and engagement. She did an excellent job of using up the full hour and allowing participation from the children. I could see her excitement. She had songs incorporated into her stories with repeating, predictable phrases that the children could sing along to or say along with her. It was enchanting and meaningful for the children. When the children went home they all told their parents about Karen's storytelling."
"Karen is a gifted artist and storyteller. I was looking for someone who would be able to reach all of the grades and ages in our school. Karen did a great job working with students from Kindergarten to grade 12. She had the students telling stories with string and helped one class pass the time before her presentation by dancing with them! Foremost School was privileged to have the chance to share some of her stories, drawings and history. I would rate Karen a 10 out of 10!"
"The presentation held the students' attention by having just enough transitions. The kids also loved singing along with her and participating in the story. They really enjoyed seeing her process, looking at her journal and original drawings and paintings."
"I got the opportunity to listen and help with Karen's session at Plamondon Municipal Library. She is fantastic! I would definitely rate her a 10/10. She captures the audience's attention with ease and grace. Karen tailors her presentations to her audience, meaning she always has 2 or 3 different stories to tell depending on the age of her audience. She has an amazing way of getting the audience to sing along or volunteer when needed that is amazing. The students at Plamondon felt comfortable enough to sing with her, and a few got up to participate without being picked by the teacher. Overall she is a great presenter."
"Top marks! Karen was very engaging, and pulled you right in to the story. We could tell the kids were enjoying the presentation and were really listening.
Everyone really enjoyed Karen, not just her stories but her personality. She has a unique ability to pull you in and make you care about the story she is telling. She also was very interested in her audiences and their stories, which made engaging with her very easy."