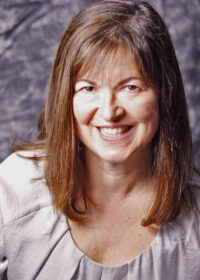 Biography
A former elementary and junior-high teacher, Karen is the author of eight middle-grade and young adult novels. Her books feature relatable kids and teens working through contemporary problems and are often set in Edmonton, where Karen has lived for many years.
Karen is also an experienced touring artist who offers numerous high-energy presentations in English and in French each year. She enjoys sharing stories about the inspiration for her books, and about the joys and challenges of being an author. She also highlights the transformative power of books, reading and writing, and encourages students to imagine, create, and share stories based on their personal interests and experiences.
When she is not writing in her studio, Karen is often running in the river valley or training Bowie, her rambunctious pup.
Karen will be available for both in-person and virtual bookings in 2023-24. Please inquire for specific availability.

Presentations
Presentations – offered virtually and in-person:
Kdgn-Grade 3: "Finding Your Inner Superhero" (45 minutes; offered in English; musical conclusion in French)
Karen draws students into story-building by tapping into their personal experiences at home, at school, and in their communities. With a shift into her alter-ego, she inspires students to create their own superheroes capable of solving whatever changes they want to see in the world.
This session also includes a reading from Karen's story, Sadie Maeve: Farmyard Hero, which engages students in demonstrating the three main parts of a story. It concludes with Karen's original French song, "J'entends les animaux," which is suitable for English and French Immersion students.
Grades 4-6: "Picking On Your Protagonist" (50-60 minutes; offered in English, or in French/English)
Karen emphasizes the importance of creating a well-rounded main character, or protagonist, who has a problem. She offers age-appropriate examples, and discusses the importance of focusing on what the protagonist most wants in life.
Using readings from her middle-grade novels, Karen demonstrates how to turn real-life events into memorable stories. Students will come away appreciating the twists and turns that might befall a young protagonist struggling to overcome problems in a real or imaginary world. The session concludes with a ten-minute question and answer session.
Grades 7-9: "Show Me Some Emotion" (50-60 minutes; offered in English, or in French/English)
This presentation opens with a discussion about how building powerful emotions into your stories will hold readers spellbound from the earliest scenes of their stories, until the exciting conclusion.
Using excerpts from her young adult novels, Karen illustrates writing techniques which will increase story intensity as various emotions clash. Karen also leads students in her original role-playing game called "Show Me Some Emotion!" The session concludes with a ten-minute question and answer session.
Grades 10-12: "High School Writing…. and Beyond!" (50-60 minutes; offered in English)
Students sometimes overlook writing as a career because they aren't aware of the various writing forms open to them. Karen discusses a range of writing opportunities and debunks myths about what it means to be "a good writer."
Karen also offers candid insights into the joys and challenges of being a writer, including her least thrilling writing contracts; crushing rejection letters; and positive reviews on her books. Students will leave with ideas about why improving their writing will enhance their lives—even if they never plan to pick up a pen again after English 30. (Spoiler alert: they will pick up a pen!) The session concludes with a question and answer session.
Workshops
Writing workshops presented in-person only: (in English; maximum 30 students; 50-60 minutes):
With eight years of classroom experience, Karen is happy to tailor her workshops toward students' interests and needs. Please talk to her about the writing session you would like her to offer your students!
Some of Karen's writing workshops include:
Grades 3-6: "Hullabaloo at Spafford-Fitz Zoo"
Congratulations on your new, fantasy career: Zookeeper at Spafford-Fitz Zoo! Using Karen's story prompts and the roll of a dice, create your own imaginary animal. What unique characteristics does your new beastie friend have? What mayhem follows when your creature escapes from the zoo? Bring your inner zookeeper and your wild sense of imagination as we write a high-stakes adventure story!
Grades 3-7: "I Didn't Do it!"
Have you ever been accused of doing something you didn't do? Same here! This lively workshop focuses on building a story around the theme of having to prove your innocence. Join Karen in unlocking your sense of adventure, your imagination and your appetite for adventure!
Grades 4-9: "Trouble-making"
With emphasis on creating a well-rounded main character, Karen guides students through character-based plot development possibilities. Students will encounter the twists and turns that might befall a protagonist struggling to overcome problems and to survive—whether they live in a modern-day world, a past world, or an imaginary world.
Grades 5-9 "Spafford-Fitz Spy School"
After introducing Spy School Lingo 101, Karen will welcome hew new student spies into the world of 'Whodunit and Why.' In a step-by-step process, students will unravel the strands behind a dazzling high-stakes theft… then share their brilliance by writing their own mystery story.
Grades 5-9 "Superhero, Utter Fiend, Everybody In Between"
The session opens with a deep-dive into character traits (positive, negative, and in-between). Students will then create a realistic, three-dimensional character who demonstrates both strengths and flaws. Karen offers story cues to test characters' reactions, with students plunging their new protagonists into the genre of their choice: mystery, fantasy, historical fiction, sci-fi… oh my!
Grade 6: "Grade Six PAT Prep"
You know the standardized writing test that grade six students (and teachers) fret about all year? Fret no more! Karen provides a fun, effective framework to help students approach this story-writing task with confidence. This workshop is best offered as a multi-visit series.
Requirements for in-person sessions:
Karen will arrive with her program saved onto a thumb drive in PowerPoint and in Keynote. She can also run it from her MacBook and will supply the adapter.
The host school or library is asked to provide Karen with:
a projector or Smartboard;
an onsite tech-support person (teacher, administrator, etc) to set up the tech 30 minutes prior to the first session;
a screen or a large wall to display the PowerPoint;
a chair;
two tables (or four desks) for additional props;
a microphone is optimal if will be presenting in a large room, such as a school gymnasium.
due to set-up requirements, Karen prefers to deliver all presentations in the same room for the duration of her visit.
Fees
Pricing for in-person and virtual sessions:
Half day (2 presentations): $425.00
Full day (4 presentations): $650.00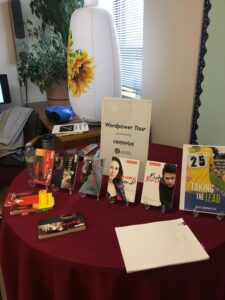 Bibliography
Pickpocket (2021: Orca Book Publishers; ages 12+)
Trouble follows Jean-Luc all the way to southern France where he meets a young pickpocket facing dire circumstances.
Volleyball Vibe (2020: Lorimer Sports Story; ages 9-13)
When Ria steps away from her cell phone and tries out for the volleyball team, she soon learns being part of a team fosters greater confidence and growth.
Taking the Lead (2019: Lorimer Sports Story; ages 9-13)
CCBC "Best Books for Kids & Teens;" starred review
Jonas, a track star who runs only to win, learns the true meaning of sportsmanship when he trains a vision- and mobility-impaired teen for a 5k race.
Unity Club (2018: Orca Book Publishers; ages 10-14)
When a new group home for at-risk youth opens in her neighbourhood, Brett tries to convince everyone in the Unity Club to give the teens a fair chance.
Push Back (2018: James Lorimer & Company Ltd.; ages 13+)
Resource Links "The Year's Best for Fiction Grades 7-12
To get criminal charges dropped and to avoid a life on the streets, Zaine participates in a restorative-justice program. His efforts are challenged by gang members wanting to recruit him.
Saving Grad (2017: James Lorimer & Company Ltd.; ages 13+)
Resource Links "The Year's Best for Fiction Grades 7-12"
After fleeing across the country, Vienna is rebuilding her life when her abusive stepfather comes for her at her grad party.
Vanish (2013: Orca Book Publishers; ages 10-14)
Resources Links "Best Books"
Simone enjoys mentoring younger students but when Lily, her "Kinderbuddy," goes missing, Simone becomes a key witness in a parental abduction investigation.
Dog Walker (2006: Orca Book Publishers; ages 10-14)
CCBC "Best Books for Kids & Teens"
When Turk discovers girls can't resist dogs, he becomes a dog walker. But his business falls apart when Carly discovers its real purpose.
Reviews
"The students/staff were mesmerized with the presentations. Karen Spafford-Fitz's presentation resulted in all of her books being checked from the library that day! How terrific to see the "spark" of creativity and literacy simultaneously ignite! That is just no App for that!"
"A few [student] quotes and answers when asked 'What do you remember about the visit that will help you as a writer?' Be confident. Make the characters suffer during the story. Put them in lots of trouble. Revise your work, a lot."
"It was great how the author did her presentation in French and English!"
"In my entire career, I could not have offered the students what the visiting author did in a single session."
Review of Push Back: "Some of the settings, such as school and home, will be familiar to most readers, and Spafford-Fitz takes them to more unfamiliar settings, like the streets (the places Zaine finds shelter) and the police station, with ease. Push Back is an engaging read that will offer opportunities for discussion of the justice system. Recommended."
Saving Grad is a quick read, with a very fast paced plot. The French language is used in many conversations between Vienna and her grandmother, a feature which readers may find interesting. Recommended.
"Karen Spafford-Fitz has woven a realistic narrative in Saving Grad, with credible characters with whom teen readers can associate. There is no denying the topics are difficult and Spafford-Fitz does not sugar-coat them, but rather tells it as it is in the most natural way possible. Saving Grad is an excellent novel for classroom discussion." Rating: Excellent
Review of Vanish: "Spafford-Fitz weaves the subplots together effortlessly to create a rich reading experience."