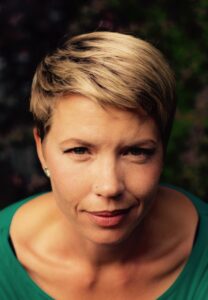 Biography
Kate A Boorman is an award-winning author from the Canadian prairies. She was born in Nepal and grew up in the small town of Rimbey. A former instructor in the Drama department at the University of Alberta, Kate has experience creating original and engaging presentations, as well as facilitating discussion in both small and large groups. She has also worked as a freelance writer producing research syntheses, and has collaborated on original theatre productions and film scripts.
Kate has participated as a guest and presenter at a variety of festivals and conferences in Western Canada, has been artist-in-residence within EPSB, and has been a touring member of YABS since 2015. She is also a member of The Writers' Guild of Alberta and the International Thriller Writers Association. Visit her at www.kateaboorman.com
Please note that Kate Boorman will not be available for bookings in fall 2023 due to prior commitments.
READING/Q & A ($75)
Join Kate for a 20 min session that involves a reading from one or more of her novels, plus a follow-up Q & A.
PRESENTATIONS ($149)
Presentations are 45 mins in length; beginning with a live intro, moving to a screen-shared, video presentation, and ending with a Q&A follow-up. Choose from the following:
How to Be a Writer
There's one criterion for being a writer: you have to write! But where do you start and how do you keep going? Kate shares her writing process from brainstorming, outlining and research, to drafting, to revision. Includes tips for how to get started and how to get unstuck! Recommended for grades 4 & older.
How to Impress your English Teacher 
Are you saying what you mean? Do you know how to spot vague phrasing and unnecessary words in your own writing? Using humour and pop culture examples, this presentation focuses on active VS passive voice, filter words, and showing VS telling to demonstrate the importance of clear writing.  Students learn tips and tricks to make their writing more concise, careful, and compelling. Recommended for grades 9 & older.
How to Get Published in 10 (ish) "Easy" Steps 
This presentation focuses on the book's creation, from inception/first idea to its place on a bookseller's shelf.  Using selected books as examples, Kate shares insights into the publishing industry and the how-tos of getting your book published and into the hands of readers.  Recommended for grades 7 & older.
CREATIVE WRITING WORKSHOPS ($249)
Workshops are 60-75 mins in length. They are live tutorials — a combination of lecture/demonstration and hands-on writing exercises — with plenty of opportunity for interaction and discussion.
Getting Started: The Basics of A Good Story
Character, Setting, Plot, Conflict, Theme: you know the elements of a story, but how do you begin writing one? The starting point is more obvious than you think! This workshop focuses on the importance of character goals, obstacles, and stakes to help students turn an idea into a compelling journey. Recommended for grades 7 & older.
Page Turners
You've got the idea for a story, but how do you keep readers flipping the pages? You create tension! That sound obvious, but you might be surprised at how, and where, tension exists. It's not all about the dark and stormy night! In this workshop, Kate shares her tips for finding ways to create tension in a wide variety of scenes, helping students understand what drives plot and maintains a reader's interest. Recommended for grades 7 & older.
Revision 101
You've written a story! Now really write it! Did you know that stories are actually written during revision? This workshop is designed for writers who have a completed draft of a creative work. Kate will explain her own revision process and lead writers through key activities to turn their drafts into that amazing story they envisioned from the start. Recommended for grades 7 & older who have a finished creative work.
Bibliography
Kate's most recent release, the YA thriller WHAT WE BURIED (Macmillan), was a Bank Street College of Education Best Books of 2019. An examination of sibling dynamics, disability, childhood fame and childhood neglect, this surreal and spooky road trip received a starred review from VOYA, and made a variety of Best Of lists from Oprah Magazine to Seventeen.
Her young adult fiction debut, the alternate history thriller WINTERKILL (Abrams), was a 2015 Alberta Readers' Choice Award finalist, an OLA Best Bets YA 2014, and the winner of the 2015 Alberta Writers' Guild R. Ross Annett Award. It is the first book in a trilogy which re-imagines the settlement of western North America, and is inspired by local topographies and history.
Bibliography
WHAT WE BURIED (Macmillan, 2019). Bank Street College Best Books 2019.
HEARTFIRE (Abrams, 2016)
DARKTHAW (Abrams, 2015)
WINTERKILL (Abrams, 2014). Winner of the R. Ross Annett award, an Edmonton Readers' Choice award finalist, an OLA best bet, and an ALAN pick.
"The Memory Junkies", Tesseracts 15 Anthology (Edge Publishing, 2012)