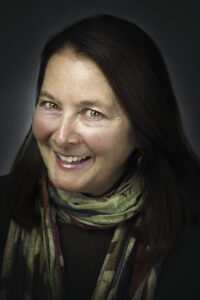 Biography
Katherine Koller writes for stage, screen and page. Her plays include the Alberta landworks trilogy (Coal Valley: the Making of a Miner, The Seed Savers and Last Chance Leduc) about changes in the mining, agriculture and petroleum industries and how that affects families, friends and partners. Last Chance Leduc, which won the 2013 Alberta Playwriting Competition, was produced in 2018 at the Backstage Theatre. She has written several story ballets for Edmonton's Citie Ballet, including Murder at the Strand, Damsels of the Night, Ariadne's Gate and Cave Beat. Her chamber opera libretto The Handless Maiden was performed in Vancouver in 2019. In fall 2016 her YA crossover novel Art Lessons, about growing up to be a visual artist, was a finalist in the Edmonton City Book Prize and the EPL Readers' Choice Award. Her six-part documentary Sustainable Me, about how young Edmontonians are adopting practices to change and save their world, is online at www.sustainablemeyeg.ca. A collection of Katherine's plays was published by Athabasca U Press (2012), Voices of the Land: The Seed Savers and Other Plays. Katherine has taught in the Department of English and Film Studies at the University of Alberta, and at Maskwacis Cultural College. She has given talks about writing, especially on dialogue, across the country. Her radio play, Hope Soup, played the Edmonton Fringe in 2019 and is available on podcast at  https://playwrightsguild.ca/edmonton-script-salon-podcasts/  Her short story collection, Winning Chance, was published in 2019 and won a High Plains Book Award. Katherine is a member of the Playwrights Guild of Canada and the Writers' Union of Canada and co-producer of Script Salon, a monthly play reading series now in its ninth year. Hear her read from Art Lessons and Winning Chance on her website, www.katherinekoller.ca, and on YABS TV.
For Fall 2023, Katherine is offering both in-person and virtual sessions, and she is open to travel.
Presentations
Art Lessons is the story of a girl who wants to be a visual artist, the many unlikely teachers she meets along the way and what she learns about art and herself. This book is YA crossover fiction. I discuss the process of writing a short novel, especially one where the main character's voice spans from the age of 7 to 18.
Another presentation connected with my YA book is The Bring your Mom to Bookclub for Girls. This is based on three mother-daughter bookclubs I have run for three of my girls from the time they were Grade 5 until Grade 12.
In addition, I have a three-exercise workshop on writing dialogue, Conversation to Dialogue, which is useful for writers in all forms: drama, fiction, nonfiction and poetry.
My Monologue Workshop is a series of three writing exercises to get gradually closer to your character.
I write in many different forms, including drama (theatre, opera, ballet); screen; radio; fiction (longform and short story); poetry; nonfiction. I can present about why and how I do this in Form is Everything.
I also present about the writing life in general. The Quaternity gives a template on how to recognize the four sources of strength and balance the life of a working artist.
I'm also open to workshop requests!
In-Person Session Fees
Half day: $300 for two sessions of 45 minutes each
Full day: $600 for four sessions for 45 minutes each
Preferred maximum audience size is 40 students.
Virtual Session Fees

$50 for 15 minutes; $200 for one hour
No maximum class login for readings; for workshops prefer around 25.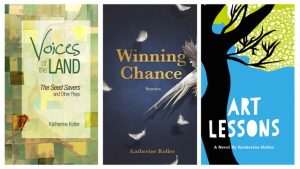 Bibliography
"Reading is an Art Form" and "Moms and Daughters who Read Together" (guest blogs) Edmonton Public Library, https://www.epl.ca/author/katherine-koller/
Hope Soup (radio play),  2019, podcast at https://playwrightsguild.ca/edmonton-script-salon-podcasts/
Last Chance Leduc (play), 2018, contact the author. Alberta Playwriting Competition, Grand Prize, 2013; Voaden National Playwriting Award, Finalist, 2015
Winning Chance (stories) Enfield & Wizenty (Great Plains), 2019. High Plains Book Award (Short Stories), Finalist, 2020
Sustainable Me (web series) at www.sustainablemeyeg.ca
Art Lessons, a novel (14 and up)  Enfield & Wizenty (Great Plains),  2016. Edmonton Book Prize Finalist,  2017, and Alberta Readers' Choice Award Finalist, 2017
"Year of the Alaska Highway" (nonfiction) at ECAMP online: https://citymuseumedmonton.ca/2016/04/12/the-year-of-the-alaska-highway-1942/
"McKernan's Lost Lake" (nonfiction) at ECAMP online: https://citymuseumedmonton.ca/2016/10/25/mckernans-lost-lake/
"Art Lessons" (short story) Alberta Views Magazine Fall 2011. Alberta Views Short Story Competition, Finalist, 2010
'Polish Wedding' in Polish[ed], an Anthology of Canadian-Polish Writing, Guernica Editions, 2017
Voices of the Land: The Seed Savers and Other Plays (plays), Athabasca University Press, 2012
"Coal Valley: The Making of a Miner" in The Alberta Advantage, edited by Anne Nothoff, Playwrights Canada Press, 2008
"Starter Home" in Three on the Boards, Signature Editions, 2007
Abby's Place (copyscript), Playwrights Guild of Canada, 2007
Perdu (copyscript), Playwrights Guild of Canada, 2007
Magpie (stage version copyscript), Playwrights Guild of Canada, 2002
The Early Worm Club (play copyscript), Playwrights Guild of Canada 2002
Starter Home (play copy script), Playwrights Guild of Canada, 2001
Magpie (radio play copyscript), Playwrights Guild of Canada 1998
"Madonna of the Wilderness"(monologue) in Going it Alone: Plays for Solo Performance, edited by Kit Brennan, Nuage Editions, 1997
"Beatty"( ten-minute play) in Instant Applause II and Instant Applause: The Best, Playwrights Canada Press 1996, 2005
Working the Beat: The Edmonton Neighbourhood Foot Patrol (nonfiction), Edmonton Police Service, 1990
Reviews
Koller delivers a convincing sense of innocent curiosity and wonder in young Cassie, tied to seemingly simplistic but revealing language. Later, the teenage Cassie gradually comes to exhibit alternating emotions of growing confidence and insecurity over her art, the opposite sex and her future in general that anyone should be able to identify with in recalling their teenage years
Writer and playwright Katherine Koller has written a wonderful crossover book for late teens and adults about a young girl who wants to become an artist in a family of sports nerds. It is her Polish grandmother who helps guide her to her dream.
Koller, who teaches English at the University of Alberta, has written plays and screenplays, and contributed to CBC radio drama programs. Her playwriting knowledge is evident in Art Lessons–each chapter can stand on its own as a scene within a play.
These stories punch above their realist, slice-of-life weights, thanks to Koller's specificity and description. She pays particular attention to evoking complex worlds of the home, and these domestic portraits linger long after the first read. It would be too easy to dismiss these stories as mere antidotes to cynicism. Instead, we might see them as a challenge to acknowledge that, yes, pain is a given in all lives, but hope and redemption are, too. The ingredients for near-transcendent goodness, Winning Chance urges us to believe, all exist in life as we know it.