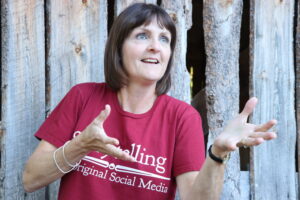 Biography
Kathy Jessup started out as a broadcast journalist with the CBC, a career that combined two of her strengths: performing and writing. While raising three daughters, she began creating stories for children and has since seen the publication and recording of numerous stories and articles. For over twenty-five years she has brought her stories and popular writing workshops to schools, libraries, concerts and festivals across Canada and internationally. Highlights include performing at the prestigious Scottish International Storytelling Festival, touring (twice) with the Canadian Children's Book Centre Week, telling stories in Inuvik and other remote northern communities, and performing in Ireland, Iceland and South Africa. Her CD of original stories LISTEN UP: Tellable Tales for Hungry Ears was recommended by the Canadian Children's Book as a top choice.
Kathy has presented Storytelling and/or Writing workshops at conventions including The Canadian Association for Young Children, The International Reading Association, The Early Childhood Education Council of the Alberta Teachers' Association, and numerous Teachers' Conventions and Young Author Conferences. Kathy is a long-standing member of the Alberta Foundation for the Arts "Artists and Education" Residency Grant Program, Storytelling Alberta, SC/CC (Storytellers of Canada), Young Alberta Book Society, and CANSCAIP (Canadian Society of Children's Authors, Illustrators and Performers).
Kathy is offering both in-person and virtual sessions for 2022 and is open to travel.
Presentations
Kathy's storytelling programs are interactive, curriculum relevant, and engaging. Students (K-12) are encouraged to think, feel, connect, and imagine, as they enjoy the experience. Sessions typically include a mix of original stories and folktales (selections are tailored to suit grade levels). Additionally, historical family stories can be added into programs for Divisions 3 and 4. Aside from telling tales, Kathy also discusses how she generates ideas, and shares tips about the writing process. She is passionate about the creative & connective power of oral storytelling and believes today's device-driven world needs it now more than ever.
Find out more at:  www.kathyjessup.com
IN PERSON PRESENTATION RATES
Half day fee: $350 for up to 2 hours of session time which can be divided into 30/45/60 minute session lengths.
Full day fee: $675 for up to 4 hours of session time which can be divided into 30/45/60 minute session lengths.
Please allow for 15 minutes between sessions. Kathy requires a microphone if performing in large spaces such as gymnasiums or areas with poor acoustics. She asks for a quiet presentation space, a small table, and drinking water.
VIRTUAL PRESENTATION RATES

30 MINUTES:  single session $125 / 2 sessions $100 each / 3 or more sessions $75 each
40 MINUTES:   single session $140 / 2 sessions $120 each / 3 or more sessions $100 each
60 MINUTES:   single session $175 / 2 sessions $150 each / 3 or more sessions $135 each
*When booking multiple sessions, it is possible for performances to be spread over more than
one day, or schedule partial days.
*Mix and match session lengths of your choice and still receive discounted rates.
*Maximum presentation time: a total of 2 hours/ half-day  or 4 hours/day. (Any combination of session lengths). Kathy asks that you give at least 15 minutes between storytelling presentations.
*Please note that while it's possible for digital sessions to accommodate many classroom log-ins, larger numbers severely limit the interactive possibilities between artist and students. Fewer class groups make for a more intimate storytelling presentation, and it's easier to answer student questions etc.
WHY STORYTELLING?
Storytelling is literacy in its simplest, most accessible form.
CURRICULUM CONNECTIONS
Aside from the obvious entertainment value, STORYTELLING:
DEVELOPS ACTIVE LISTENING SKILLS & STRENGTHENS THE "IMAGINATION MUSCLE"
ENHANCES AND HELPS BUILD LITERACY
PROVIDES AN OPPORTUNITY TO EXPERIENCE CULTURALLY DIVERSE STORIES
PROMOTES EMPATHY AND REINFORCES DESIRABLE CHARACTER TRAITS
DEALS WITH SOCIETAL ISSUES IN A POSITIVE AND CONSTRUCTIVE CONTEXT
DEMONSTRATES USE OF VOICE, GESTURES AND OTHER NON-VERBAL CUES
PROMOTES AWARENESS OF STORY STRUCTURE, DEVELOPMENT, AND PACING
INSPIRES CONNECTIONS TO SELF AND TEXT
Edmonton storyteller Kathy Jessup loves to perform! Holding the attention of twitchy students might seem daunting to some, but Kathy masters the challenge. An experienced entertainer, she creates a relaxed, positive atmosphere, building an instant rapport with audiences , whether in-person or during virtual screen visits. Her programs are interactive, curriculum relevant, and engaging. Listeners are prompted to think, feel, and imagine, as words linger in the air. Kathy is passionate about the creative power of oral storytelling and believes today's device-driven world needs it now more than ever.
STORIES OF THE ALASKA HIGHWAY:
The Alaska Highway turned 75 in 2017and is on track to become one of  Canada's Official Historic Sites!  Kathy has created an exciting set of stories for adults and older students about the building (and early days) of this famous highway through northern Canada. Based on historical research and family history.
Did you know … Edmonton has an important link to the World Famous Alaska Highway?
CURRICULUM CONNECTIONS: World War Two, Canadian history, Edmonton history, development of the North, U.S.A.-Canada relations, military road-building, pioneer challenges and wilderness survival.
​
​ WORLD FOLKTALES and ORIGINAL STORIES
For all grade levels.
          – FOLKTALES: Kathy likes to focus on the multicultural aspect of stories; how they help promote tolerance and understanding between nations, illuminating the common experiences and emotions we all share. Drawing upon stories from different countries, Kathy is able to give students of all ages a cultural trip around the world!
          – ORIGINAL STORIES: Kathy loves to share insights into the creative process.
*For younger students, she focuses on her repertoire of stories for children. She reveals some of the magic- explaining how she starts with a simple idea then weaves in fact and fiction, giving birth to a new story. Popular story themes include tattling, recycling, funny family situations, and even a fractured fairytale.                                                                                                                
 * For older students, Kathy focuses on family stories and historical tales, demonstrating how memories and/or research can be used to create original true stories.
"First I like to capture a student's interest by telling them a story," says Kathy. "Once they're hooked, I take them on a backward journey, so they can understand how the story came to be. It gets them excited about creating their own stories."
Storytelling concerts can be adapted to accommodate student grade level, time requirements, special requests and particular Curriculum interests such as character education and appreciation of world cultures.
Bibliography
How to be a Storyteller: Essays and Advice on the Art of Storytelling
Storyteller.net, 2012
World on a Maple Leaf: A Treasury of Canadian Multicultural Folktales
United Cultures of Canada Association, 2011
LISTEN UP! Tellable Tales for Hungry Ears
Storytelling CD, 2010
*Recommended by The Canadian Children's Book Centre guide
"Best Books for Kids & Teens" 
Anthology: Under the Wide Blue Sky- Alberta Stories to Read and Tell
Story: Mama and the Bear /  Red Deer Press, 2005
Undaunted Enchantments,
Written By Produced By: The Alberta League Encouraging Storytelling , CD anthology, 2010
Folktale- The Steadfast Tin Soldier
T.A.L.E.S. on the Wind,
Written By Produced By: The Alberta League Encouraging Storytelling, CD anthology, 2008
Folktale- The Gallant Tailor
A Collection of T.A.L.E.S,
Written By Produced By: The Alberta League Encouraging Storytelling, CD anthology
Original Story- Hilary's Fishing Trip
Reviews
Kathy Jessup is a strong, clear, natural teller, with a rich hinterland of stories and experience of pioneering life in the north west. She opens up fresh territory for storytelling audiences with winning humour and gusto. 
Kathy has performed twice at our county library. On both Family Fun Friday occasions she proved herself to be a confident and polished storyteller whose original stories appealed to children and their parents. She uses humour and her own family's experiences to shape a story that keeps her audience enthralled.
Kathy is just the kind of performer that I like to book for festivals and other events. Professional, organized, and dynamic — it was a pleasure to have her tell at the Ottawa Children's Storytelling Festival. 
Kathy was a featured performer at our Toronto Festival of Storytelling. She was a pleasure to work with and the audiences loved her!
I liked all the stories you told. I hope you can come again.
Kathy's abilities as a storyteller are impressive. She has it all: skill, enthusiasm, repertoire, organization and work ethic. Our festival and our art are enriched by her talent. 
During the weeklong festival Kathy shared her stories during 20+ hours of workshops to more than 350 people! We loved having Kathy with us and gladly recommend her as a storyteller, writer and workshop facilitator.
Kathy told us stories from her turf, stories about wild nature, pioneers, and adventures in North West Canada. She is a great natural storyteller and she captured the audience's attention.
I like the princess who loved frogs. I like the sproing sproing sproing. I said sproing too. Thank you for telling us.