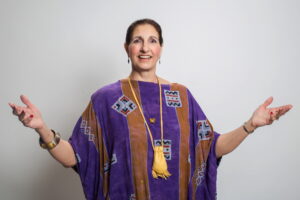 Biography
Early Beginnings: Mary Ann began "telling stories" at a very early age. Her anecdotes made people laugh out loud, exotic tales created distractive wonder, and colorful embellishments initiated gossip! Many stories later, Mary Ann was serendipitously drawn to tell at a Stettler Public Library Story-Hour where her gift of oral expression was recognized. Encouraged, Mary Ann set out in 1991 as a freelance storyteller donning a pocket covered cape celebrating her label, Story in My Pocket.
Evolving Art Form: As an Early Childhood Educator in Day Care, Preschool and Kindergarten, and as a K-6 Special Needs Educational Assistant, Mary Ann was able to develop and hone her storytelling craft on a daily basis before children, teachers and librarians. Passionate in her craft, Mary Ann's present day intergenerational storytelling is an evolving art form that blends an engaging educational experience with animated entertainment. While traveling with Story in My Pocket since 1991, Mary Ann has told stories at fish camps in Alaska, a historical village hall in England, a New Mexican ancient cliff dwelling, and to passengers and crew on a West Jet flight from Yellowknife!  
Professional Memberships:
CCBC (Canadian Children's Book Centre)
SC-CC (Storytellers of Canada/Conteurs du Canada)
SA (Storytelling Alberta, formerly TALES Alberta -The Alberta League Encouraging Storytelling)
SAS (Storytelling Alberta – Strathcona Chapter (formerly TALES Strathcona Chapter)
YABS (Young Alberta Book Society)
STORY in MY POCKET
Include but are not limited to the following:
Alaskan Fish Camp
Alberta Arts Days Collaborations
Alberta School Tours
Ancient Cliff Dwelling, New Mexico
Boomtown Trail Historical Characterizations
Cenovus/YABS Wordpower / YABS Taleblazers Tours
Children's Library Programmer's Training
Community and Church Clubs
Conference Workshops across Alberta
Country Fairs
Early Childhood Program Workshops
Family Literacy Facilitator Training
Fort Edmonton TALES Storytelling Festival
Historical Village Hall, Priston Parish, England
Keynote and Motivational Addresses
Library: Family, Ladies' Group, Senior and TD Summer Reading Programs
Markerville Icelandic Saga Collaboration
90th Birthday Celebration
Senior's Lodges, Nursing Homes
Summer Camping Programs
Storytellers of Canada / Conteurs du Canada National Conference
Teacher Professional Development Institutes
Thanksgiving House Concert, Greenville, South Carolina
Wainwright Ghost-tellings
West Jet flight from Yellowknife to Edmonton
Wilderness / Interpretive Centre Collaborations
World Storytelling Day Concerts
Past Clients:
Include but are not limited to the following:
Alberta Early Years Conference
Alberta Prairie COW Bus, Alberta Centre for Family Literacy
Annual Family Day Home Providers Conference
Camrose Arts Society & District Museum – Aboriginal Celebrations, Jay Walkers Jamboree
Candora Society of Edmonton
Drumheller Golden Prairie Parent Link
Edmonton City Women's Symposium
Edmonton Mennonite Centre for Newcomers
Edson and District Community Learning Society
First Nations and Metis Communities across Alberta
Girl Guides of Canada
Hanna Learning Centre
Heartland Youth Centre
Laurier House – Strathcona Capital Health
LINC – Language Instruction for Newcomers to Canada
MacEwan University
Norquest College Day Home Providers Programming
Prairie View Hutterite Colony
Red Deer College
Rocky Community Learning Council and Library
Albert International Children's Festival
Strathcona Wilderness Centre
TD Canadian Children's Book Centre Book Week Tour – New Brunswick
U of A Campus Ministries
Women Teachers Alpha Chapter – Delta Kappa Gamma
Yellowhead Regional Libraries – Staff Training and Development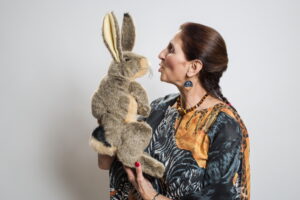 Please note that Mary Ann is not planning to tour with Taleblazers 2023, but she is open to inquiries for private bookings. She can be reached at prmalippiatt@gmail.com or
780-941-3843
Presentations
PUBLIC AND SCHOOL PRESENTATIONS
Commitment:
Mary Ann believes oral storytelling is a timeless medium that brings people together to understand, connect and support the global community. Whether dressing up as a leprechaun to entertain Tiny Tots, or regaling Seniors with pioneer stories, Mary Ann is committed to providing an interactive presentation to intergenerational audiences that is reflective of the vital communication link between the written word and the universal traditions of oral storytelling.
Private, School and Workshop Booking Inquires and Requirements: General inquiries and booking information are welcome year round. Be advised to consider booking well in advance as Mary Ann is an active touring oral storyteller with limited availability. prmalippiatt@gmail.com or 780-941-3843
Booking Inquiries:
In-person presentations only. Virtual Presentations currently unavailable.
Available year round with 3 months advance booking recommended.
Bookings of any group size will be considered.
Rural Alberta inquiries welcome!
Non-Taleblazers bookings are readily accepted, subject to non-Taleblazers presentation fees and mileage.
Mary Ann offers preschool to adult presentations for public and private bookings.
(YABS) Taleblazers presentations focus primarily on Gr. K – 9 audiences.
Mary Ann is not First Nations but has been honored to receive invitations to advocate and support First Peoples (FNMI) by sharing "Teachings and Lessons of Wisdom," which all people, irrespective of heritage and spiritual beliefs can learn from.
Presenter's Requirements:
One hour uninterrupted presenter set-up time prior to first presentation.
Access to drinking water (to refill water bottle).
2-3 rectangular tables for materials (number required confirmed with booking).
A personal head-set or lapel mic required for large groups / venues.
Mary Ann will discuss presentation details directly with booking host over the telephone and prior to a presentation.
An enclosed library or program room conducive to oral storytelling is preferred.  Gymnasium or community hall presentations must be discussed with Mary Ann prior to a booking confirmation.
Distinctively Unique:
NEW REPERTOIRE MATERIAL FOR EACH PRESENTATION!
Touring as "Story in My Pocket," Mary Ann welcomes inquiries of her diverse repertoire and story-adaptations for intergenerational audiences.  Celebrating a multicultural mosaic of universal oral storytelling traditions, audiences of all ages are magically engaged in an interactive audiovisual extravaganza of oral storytelling techniques that may include string, draw and tell, cut and tell, instruments, costumes, puzzles, puppets, props, Signed Language, and traditional music.
Classroom and Curriculum Connections:
Mary Ann brings her wisdom from life-experiences as an Early Years Educator, Elementary Educational Special-Needs Assistant and Touring Oral Storyteller.
Mary Ann is sensitive to diverse student needs, respectful of teachers and aware of curriculum accountability.
Mary Ann's flexible custom programming is a blend of interactive oral storytelling entertainment, curriculum connections and multicultural content.
Educational Components:
Perpetuate literacy and learning with engaging storytelling that generates language development, stimulates a desire for the written communication and inspires the enjoyment of life long reading.
Connect to current Language Art and Social Studies curriculum with an extensive storytelling repertoire that is newly customized with each presentation.
Partner with educators to advocate literacy by using effective oral storytelling that teaches by modeling, active participation and illustrating diverse oral telling forms.
Compliment literacy programs with inspiring oral storytelling that fosters an aesthetic appreciation for the oral language.
Celebrate the family and community spirit through a positive experience of interactive oral storytelling.
Advocate tolerance and acceptance for the diversities of fellow mankind by incorporating values of respect and compassion with a multicultural mosaic of stories.
Inspire curiosity, imagination and creativity through the artistic energy of oral storytelling.
Subject Links:
3rd Generation Family Stories, Personal Stories
Localized Farming History, Alberta / Pioneer History
FNMI
First Nations Grandfather Teachings, Legends, Trickster and Wisdom Stories
Nature, True Adventures
Global and Community Cultural Diversity
Conflict – Resolution, Anti-Bullying
Understanding, Tolerance, Respect, Acceptance
Leader-In-Me, Personal Choices, Friendships
Visual / Performing Arts
Language Arts:
Life-long enjoyment of story listening, telling, reading, and writing
Fables, Fairytales, Folklore
Legends, Myths, Tricksters
Poetry, Rhymes, Transitional (Movement) Action Songs / Chants / Hand Games
Oral Storytelling workshop
Social Studies:
India, Peru, Ukraine
FNMI First Nations, Métis, Inuit
Historical Characterizations
Alberta Farming, Pioneers
Artistic Value:
Appreciation of oral storytelling as the oldest yet current art form
Creative Expression, Interpretation and Inspiration
Performer's Presence, Public Speaking
Diverse Oral Storytelling Techniques
Audience Limit: K-Gr. 3: 80; Gr. 4-12: 100; Adult: 150-200
Presentation Limit: 4 one-hour / day, or 1 one-hour per evening
780-941-3843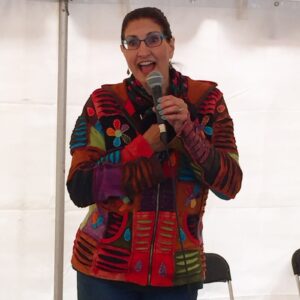 Reviews
"What a great way to draw children to literature! Thank you for inspiring us."
"You told with such enthusiasm and wonderful use of your voice that the children had their eyes and bodies totally focused on you. You managed to relay a lot of facts in between the stories without losing their interest."
"You are by far the most dynamic, charismatic storyteller I've come across — very enthralling! Thank you for sharing your gift with us!
"I appreciated your warm relationship and discussion with the students on aspects of Native Culture."

 
"Very motivating, entertaining and touching. Good practical ideas for all levels."
"You have a good sense of humor and I think reading will be more fun now."
"A story-teller like no other I've ever heard, Mary Ann makes us laugh, cry, sing a-long, imagine, and most of all draws us into her amazing story world.  Students and adults alike are enchanted and spellbound when Mary Ann is in the room.  She commands an audience and shows us how everyone has a story to tell. You won't want to miss an opportunity to hear this extremely talented story-teller!"