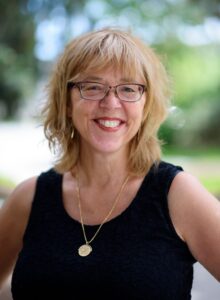 Biography
As a child of immigrants, Rita Feutl didn't learn English until she started school. That's also where she discovered books and the wonder of stories. She wrote her first one when she was seven. She grew up in Toronto, did an M.A. in Journalism, travelled the world and settled in Edmonton, where she completed a post-graduate diploma in teaching English as a Second Language from the University of Alberta.
She has written for many newspapers and magazines, including the Globe & Mail, Toronto Star, Edmonton Journal, Canadian Lawyer, Avenue Magazine and Today's Parent. She also edits books and websites. What she likes doing best, though, is writing books for kids and teens.
Rita will available for in-person bookings beginning on October 5, 2023 and is open to travel.
Presentations
Rita has presented to children and teens in classrooms, libraries and gymnasiums across the country.
Recycling a Folk Tale (Grades 1-6): Rita talks about how she and co-author Debby Waldman adapted an old central European folk tale to include the 4Rs of clutter/environmental management: Reduce, Reuse, Recycle and Recover. Curriculum Links
A Novel Tour Through Alberta History (Grades 3-7): Rita talks about how she combined historical and personal facts to create a novel in which a 12-year-old kid explores Alberta's past. Rita will bring to life the tales of Wop May's Mercy Flight to northern Alberta, Emily Murphy's part in the Famous Five and Hudson Bay Chief Factor John Rowand's journey from Montreal as a 13-year-old looking for work on the North Saskatchewan River. Curriculum Links
Follow Your Passions (Grades 7-10): What triggers a modern-day novel? For Rita, it was the theft of her family's bikes and a headline about a youth bike group. She'll talk about climbing inside a bike thief's head, and why it's important to explore your passions. Curriculum Links
How to Write a Picture Book (Grades 7-9): Budding authors will be inspired by Rita's 10 ideas for writing picture books as she shows students creative examples by authors and illustrators around the world.
Write Snappier Sentences (Grades 9-12): Writer and editor Rita Feutl walks students through some common writing mistakes and shows them how to fix them. Whether it's her patented dynamite trigger test for badly placed apostrophes or her alien trick for passive voice, Rita's presentation will have students writing clearer, more concise sentences for their essays, exams or creative pieces.
WORKSHOPS
Setting the Scene Writing Workshop (Grades 4 – 7): Using authentic historical photographs, Rita works with students to create a rich, sensory scene with characters ready to tell a story.
Create a Memorable Character Writing Workshop (Grades 5 – 8): Move from stereotypes to more complex, interesting characters.
Journalism Workshop for Division 2 (Grades 5-6): 5Ws + 1H? Check. News story vs. feature story? Check. Journalism lede? Check. Practice writing a story? Absolutely.
The Online Sentence Hospital (Grades 7-12) After consulting with the teacher about sentence problems in the classroom, Rita will diagnose the difficulty and offer cures that kids can understand in an online session. (Notice how Rita never uses the word "grammar"?)
Pricing
Full day fee: $550 + GST (usually four sessions of 60 minutes each)
Half day fee: $300 + GST (usually two sessions of 60 minutes each)
Bibliography
A cycling trip in Banff National Park inspired Rita's latest book, Rescue in the Rockies (2019). Having discovered the site of a First World War internment camp for immigrants from the Austro-Hungarian Empire, Rita researched and wrote this YA historical time-travel novel set in and around Banff. It's a sequel to Rescue at Fort Edmonton (see below).
Because of the theft of six bikes from her family, Rita has written Bike Thief (2014), a YA novel about a 16-year-old who must steal bikes to pay off a debt. This hi-low fast read is part of the Orca Soundings series.
In collaboration with Debby Waldman, Rita has adapted a central European folk tale to create Room Enough for Daisy (2011), a picture book about how a kid who wants lots of birthday presents learns about the 4Rs: Reduce, Reuse, Recycle and Recover.
Rita has also researched and written a wonderful historical fiction novel for ages 8+ called Rescue at Fort Edmonton (2004). On the Authorized Resource List of Alberta Education's Grade 4 social studies curriculum, this time-travel novel explores the different eras featured at Fort Edmonton Park, and is a prequel to Rescue in the Rockies.
Teachers may wish to reinforce the learning experience of Rescue at Fort Edmonton with the free, downloadable  Rescue at Fort Edmonton Teacher's Study Guide, which includes activities, background information and assessment tools.