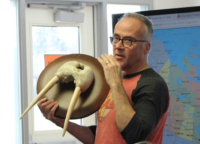 Biography
Robert Feagan was born while his father, a member of the Royal Canadian Mounted Police, was stationed in Fort McPherson, Northwest Territories (N.W.T.). Robert grew up accompanying his father, patrolling the Mackenzie Delta by dog team and speedboat. Although most of his life has been spent in the North in Fort McPherson, Yellowknife, Cambridge Bay and Inuvik, Robert has also lived in Ontario, Newfoundland, Prince Edward Island, Nova Scotia, British Columbia and Alberta. After graduating from Dalhousie University, Robert worked in Yellowknife, Cambridge Bay and Inuvik, N.W.T. before moving to Alberta in 1997. While working for the Government of the Northwest Territories, Robert traveled extensively and has visited every community in the N.W.T. and Nunavut.
Robert has very diversified interests. He has participated in Junior B Lacrosse, Alpine Ski Racing, and hockey at various levels. He has coached hockey, and been accredited as a ski instructor and certified weight trainer. He enjoys acting and has appeared in commercials and as a featured extra in several motion pictures. Robert has five children: Robin, Joshua, Michael, Tandia and Maya. With his father in the RCMP, Robert had the opportunity to live in and visit all of Canada's provinces and territories. With his father in the RCMP, Robert was born and raised in the Northwest Territories and had the opportunity to live in and visit all of Canada's provinces and territories. He was struck by how little most Canadians actually know about the northern territories of their own country. His first novel, Napachee, was inspired by the desire to teach young people more about the north in an entertaining but realistic fashion. Through its use of northern languages, culture and geography, all of Robert's novels have become a popular resource for the northern studies at many schools across Canada. Robert enjoys readings and speaking about the North to anyone who is interested.
Robert will present to students in grades 1 through 12 and brings a wide variety of carvings, beadwork and other northern artifacts. www.robertfeagan.com
Rob is offering both in-person and virtual sessions for the 2022-23 school year and is open to travel.
Presentations
Virtual visit fees: $150 for a single 60 minute session, $300 for two 60 minutes sessions (half day), $600 for four 60 minute sessions (full day).
In-person visit fees: $300 for two 60-75 minutes sessions (half day), $600 for four 60-75 minute sessions (full day).
Robert has given presentations across Canada and the United States to a wide variety of audiences including grades K to 12, university and conventions. His highly interactive visits include readings, discussion of northern animals, cultures, climate, climate change, plot and character development, along with visual displays and discussion of northern artifacts from his personal, museum quality collection.
Children of all ages have been enraptured by Robert's presentations which include virtual or in person opportunities to see, and feel artifacts including narwhal tusks, muskox head, walrus skull, harpoons, carvings, beadwork, traditional snow glasses and other items they will not encounter elsewhere! His entertaining stories of life growing up in the north and personal experiences with animals such as muskox and polar bear provide an unforgettable addition to students' education on the north.
PRESENTATION REQUIREMENTS
Rob will be asking for three large tables, a large map of Canada, Smartboard (if available), and a CD player.
Audience Limit: Flexible provided appropriate presentation space.
Presentation Limit: 4
Full day fee: $600
Half day fee: $300
Bibliography
Arctic Thunder Dundurn Group 2010 – 1st runner up Golden Eagle Book Award, CBC 100 young adult books that make you proud to be Canadian.
Mystery at Shildii Rock Dundurn Group 2007- Nominated Golden Eagle Book Award.
Napatsi  Les editions du Soleil de minuit 2002
Napachee Beach Holme Publishing 1999
Reviews
"Adult readers should not be put off by the fact that this is a young adult novel; it is a good Arctic read for anyone."