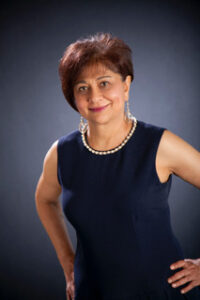 Biography
Award winning author of 11 books from picture books to novels, Shenaaz thinks of herself as a squid who lives in the sea but surfaces occasionally to read or write. She holds an M.F.A. in Creative Writing from Vermont College, USA and has presented for many years to schools & libraries across Canada and USA. She has been on the jury for Canada Council of Arts three times & Writers Union & Writers Guild of Alberta.
She believes that diversity of cultures is strength and that words have power to change lives. More information: https://www.shenaaznanji.com/
Please check back in September 2023 for Shenaaz's touring plans.

Presentations
Virtual Visits:
$125 for 30 minutes
$150 for 45 minutes
$200 for 60 minutes
In-Person Visits (only in Calgary):
Half day: $300 for two 45-minute sessions.
Full day bookings are not available at this time.
Shenaaz will tailor her presentations to meet the needs of the audience. Some examples are:
Grades 2 to 6:
My picture books are on family, acceptance & identity, & folk tales.
Why read and write?
Read from one of my picture books chosen by teacher
Writing process
Story Elements
Writing Games
Q&A
Grades 7 to 9
Why Read?
Read excerpt from one of the novels chosen by teacher
How stories change us?
Why I write about Global Issues?
Why learn about Global issues?
Q&A
OR
Why Read?
Read excerpt from one of my novels chosen by teacher
What is my world view?
How my world grew and changed?
How reading and writing change and stretch my worldview?
Q&A
Grades 9 to 12
What makes a good story?
Read excerpt from novel chosen by teacher
My Writing Process
Premise of Story
Story Structure, Story Arc, Emotional Arc of hero
Q/A
Bibliography
Child of Dandelions, Second Story Press, 2008
Governor General Children's Literature: Finalist, 2008
C.B.C 100 Must Read Young Adult Books, 2017
Geoffrey Bilson Historical Fiction: Finalist, 2009
Manitoba Young Readers: Finalist, 2010
Exporting Alberta: Finalist, Canadian Authors Association, 2009
Best Books Teens: Canadian Children Book Centre, 2009
Rhode Island Teen Book: Finalist, 2010
Notable Book Global Society List:2009
Pennsylvania School Librarian Association. Top Forty, 20
Ghost Boys, Mawenzi Press, 2017
Saskatchewan Young Readers: Snow Willow Finalist, 2018
Indian Tales, Barefoot Books, 2007
Ross Annett: Finalist, Writer's Guild of Alberta, 2009
Parent's Choice Foundation: Silver, 2008
Treasure for Lunch, Second Story, 1999
Our Choice, Canadian Children's Book Centre, 2001
Alien In My House, Second Story, 2003
Blue Spruce: Finalist, 2004
Writer's Digest: Finalist, 2000
Old Fisherman of Lamu, T.S.A.R, 1994:
Brendon Donelly Children's Lit: Finalist, 1994
Ring of Remembrance, Benchmark Education Publisher, 2019
Notre Dame, Weigl Publishers, 2014
Vatican City, Weigl Publishers, 2014
Teeny Weeny Penny, Toronto South Asian Review, 1993
Grandma's Heart, Toronto South Asian Review, 1993
Other Awards & Honours
Shenaaz won the Immigrant of Distinction award in Arts & Culture in 2011.
Reviews
"Quietly and crisply written, all of Nanji's characters are beautifully realized, morally nuanced and compellingly crafted."
"Excellent historical fiction about a timely yet sad universal subject."
"One of 100 Young Adult Books that makes you proud to be a Canadian."
"Many of us considered the book to be a page turner and we found it hard to put it down."